Easy setup, easy viewing, easy shopping — discover the top picks in selling systems and solutions to increase sales this holiday season.
The holiday selling season is close by, and with this year's expected rise in volume of sales, staying prepared is key. If you're looking for a way to provide customers with a personalized, trusted shopping experience, investing in selling systems and solutions for your case can be a great way to offer curated selections right at their fingertips. Paired with Stuller.com, you can also explore flexibility in designs with customers as they browse and try on styles right at the case.  
Stuller's range of pre-merchandised selling systems include live and prototype options to keep your holiday prep easy, on time, and full of inspiration. For ideas on how to get started, let's explore a few top picks recommended by our experts that will prepare any business, from holiday proposals to a range of gift ideas.  
Support Your Bridal Business
For any bridal business, it is important to build a selection that can cater to a range of classic and on-trend options for any customer. At Stuller, we provide solutions in both comprehensive collections and separate assortments, giving you the freedom to curate your preferred offering.
With holiday proposals around the corner, check out three recommended selling systems and solutions to anchor or freshen up your assortment.  

ever&ever® Bridal Program
As Stuller's comprehensive prototype bridal selling solution, the ever&ever® Bridal Program (651854) combines on-trend styles with high-quality, flexible design. Including up to 105 pieces, this solution is sure to offer a range of engagement rings and matching band styles that work best for your business. As a prototype solution, customers can physically try on pieces as they shop, giving them a way to visualize the piece. For customers wanting more control, this solution also offers custom-style opportunities to create the perfect piece online and in-store. 
As a bonus, we offer marketing support to make sure you stay confident in your selling, and private label options to keep your business top-of-mind even after the holiday season. Explore an unforgettable shopping experience with the ever&ever® Bridal Program. 
Designer Bridal Selling System
Intricate details, fancy stone shapes, and interesting settings — display an assortment that showcases the most in-demand engagement ring styles for unique brides. Featuring a total of eight, pre-merchandised assortments, the Designer Bridal Selling Systems (688860) add an eye-catching element to your case. Available as a comprehensive system or individually, each 8-piece assortment is categorized by style: Art Deco, Modern, Vintage, and Whimsical, with our newest including Avant Garde, Modern Deco, Nature-inspired, and Vintage-inspired. 
Celebrate individualistic brides this selling season by providing fresh, unique designs that'll shine long after the holidays.
The Classic Wedding Band Selling System
Simple and essential, wedding bands are a great staple to any offering for a business. As a classic piece, make sure to have options that maximize your sales opportunities by creating an assortment for any audience. 
The Classic Wedding Band Selling System (653689) includes up to 42 prototype bands with endless possibilities for customization. Customers can choose from 18 classic profiles, 10 special finishes, and 2 engraving options for a style that is completely their own, with the added benefit of exploring the look and feel of their preferred style before purchasing. For easy ordering, visit our online Band Builder feature with your customer to create a personalized experience.  
Fine Jewelry Selling Systems
The holidays are the perfect time to showcase options that are available to every customer, exploring accessible price points for everyday essentials, or personalized pieces for special occasions. With styles and designs for any customer, these top three selling systems and solutions are sure to excite gift-givers and self-purchasers alike. 
Increasingly popular, diamond jewelry continues to be a reliable option for those looking to build on their essentials. For an easy, stunning addition to anyone's collection, we recommend keeping the diamond stud earring nearby.  
Our Natural Diamond Stud Selling System (688912) includes best-selling diamond stud earrings in varying clarities and styles to fit your needs and your customer's, while our Lab-Grown Diamond Stud Selling Systems (653691) offer a look they'll love, but with a more affordable price point. Both include a desirable carat range with 3-prong and 4-prong setting options, all within a modular display for ease of setup.  
Consider both displays and systems for a well-rounded assortment that allows customers to find the right price point for their needs — without compromising luxury.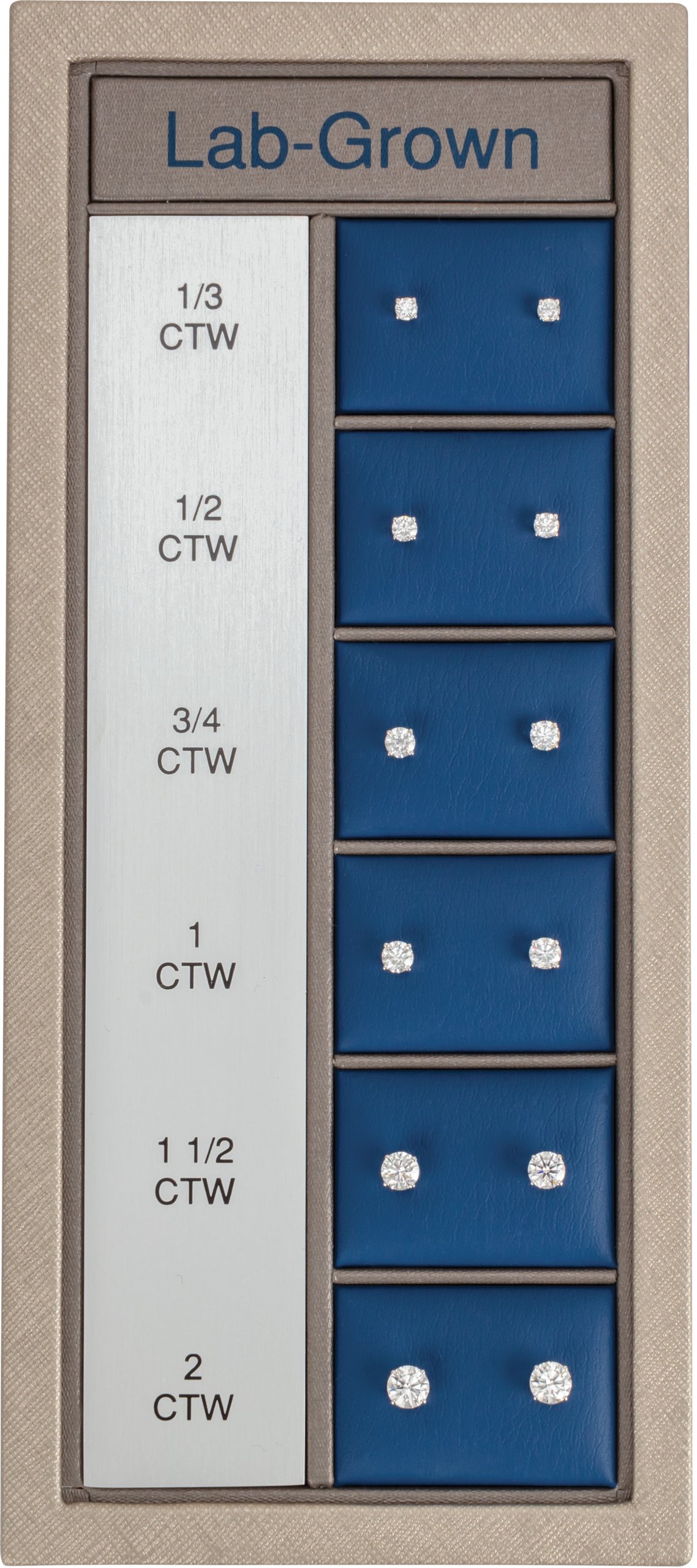 As we see a steady, promising rise in customization, we expect personalized pieces to take the stage this holiday season. Newly launched at this year's JCK Las Vegas, our latest additions in fine jewelry selling solutions offer the gift of custom with flexible 3C designs and personalization to give your customers the opportunity to create a piece that is more than just jewelry, but a treasure.  
Our Personalization Selling Solution (688929) includes eight necklace options and two rings, encouraging customers to add an initial or a special engraving for that one-of-a-kind gift. Complete with an insert to show fonts and color fill options, this prototype selling system is perfect for those wanting a selection for both self-purchasers and gift-givers.  
With two assortments that feature six rings and three necklaces, our Flexible 3C Jewelry Selling System (688935) lets you explore different stone shapes, stone types, sizes, and metal qualities in our best-selling styles. Available in Classic and Vintage-inspired styling, these curated designs range from modern and simple to accented and sculptural, each complete with a product guide showing customization options. Looking to create a personal buying experience with your customer? These styles and designs can also be further customized in CounterSketch®.  
The holiday selling season may feel daunting — although these are just a few examples of our best-sellers, we are here to help with selling systems and solutions that will have you proud to display your case to customers. As you pinpoint your business goals for the upcoming season, feel confident that Stuller has solutions for every need to keep you covered every step of the way. 
Claire is a graduate of the University of Louisiana at Lafayette with a degree in Journalism. Her advanced writing background combined with her love of staying on top of the latest trends helps her find the perfect content to bring to the jewelry industry.