Check out 10 things to see at this year's JCK Las Vegas.
We are in the final countdown for this year's JCK Las Vegas, and the Stuller team is ready to go! Boxes are packed to the brim with the latest and greatest in jewelry, diamonds, gemstones, packaging, displays, tools, metals, technology, and so much more. It's been a long three years since we've seen you, so we are bringing the best of the best to check out while you're there.
If you're attending the show, stop by JCK Booth #13089 to meet with our team, browse our cases, and learn about what's to come in the jewelry industry. Also, visit ETS Booth #58050 showcasing B&D Sales and Service, a Stuller company, for the most innovative solutions in laser equipment and servicing.
Whether you can join us in person or not, we want to give a sneak peek at what's new at Stuller. Those attending JCK will get a firsthand look at many of our exciting additions. Check out these 10 things to see at JCK.
1. The 2022 Designer Bridal Collection
The Designer Bridal Collection is a curated assortment of the top trending engagement ring designs. New this year are 32 engagement ring styles that feature design elements, such as triangle-shaped centers, two-stone settings, and asymmetrical styling. Avant garde, nature-inspired, modern deco, and vintage-inspired aesthetics come together to create a collection of styles fit for the modern bride. Easily sell these trending styles using our pre-merchandised prototype selling systems so you can feel confident carrying the best styles while keeping costs low and inventory minimal.
ever&ever® is a powerful and comprehensive in-case bridal solution designed for you to provide a customizable shopping experience for every customer. Our team has worked diligently to make sure our ever&ever® retail partners have access to the highest performing and in-demand bridal styles in the industry. The Core Bridal Program (651854:6001:P) now features 29 refreshed styles, each a flexible 3C design. Current partners can also access these styles in our latest enhancements (29220).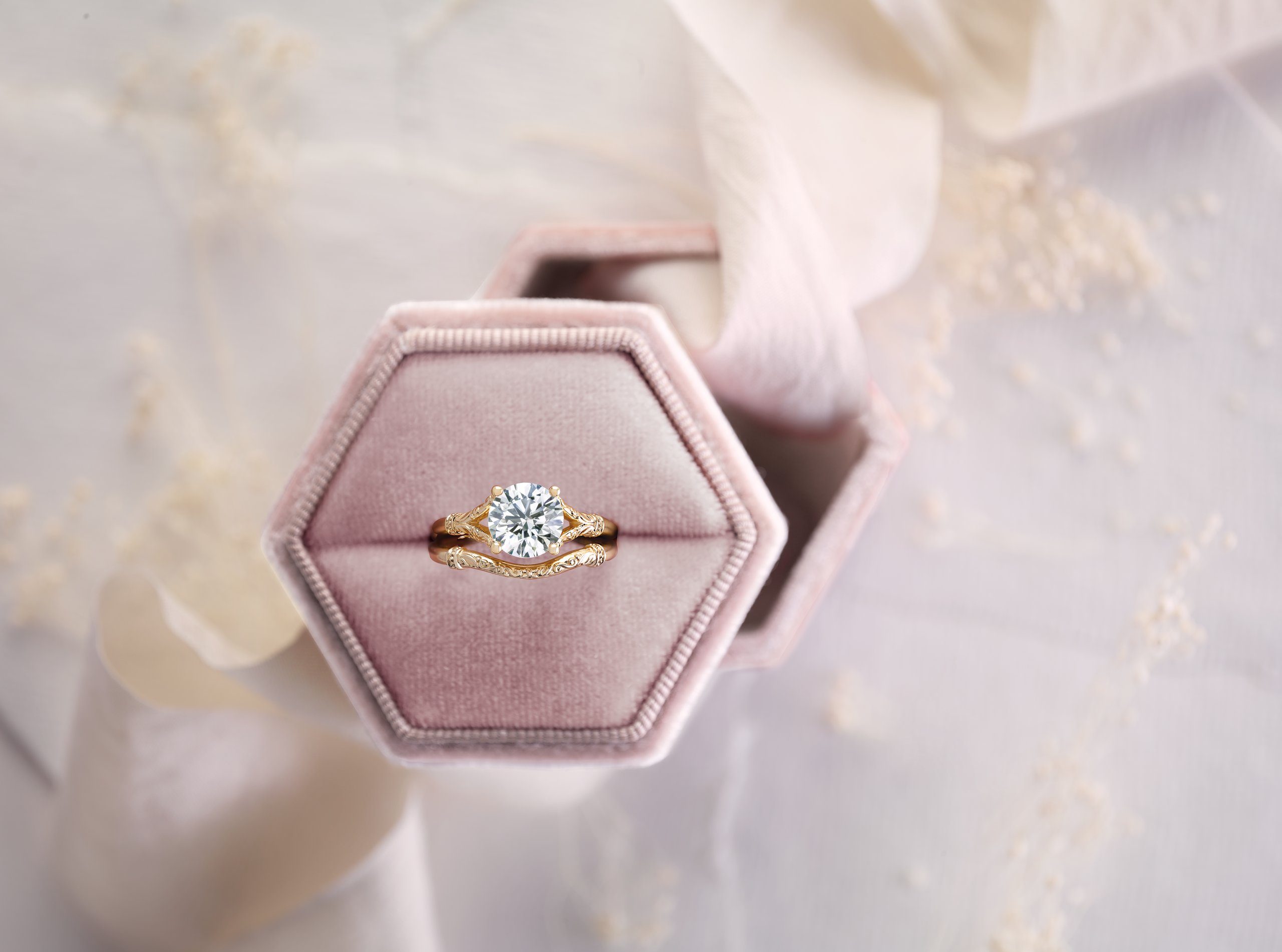 3. Chapter 6: Color Punch by 302® Fine Jewelry
302 Fine Jewelry is committed to providing the best quality, on-trend styles that inspire everyone to proudly wear a personal story. This season's latest trend presents a rainbow of possibilities. Chapter 6: Color Punch speaks to customers who want to add a splash of color to their stories. Help your customers embrace this beautiful, colorful world that surrounds them with pieces accented with rainbows, colorful enamel, and a variety of gemstones.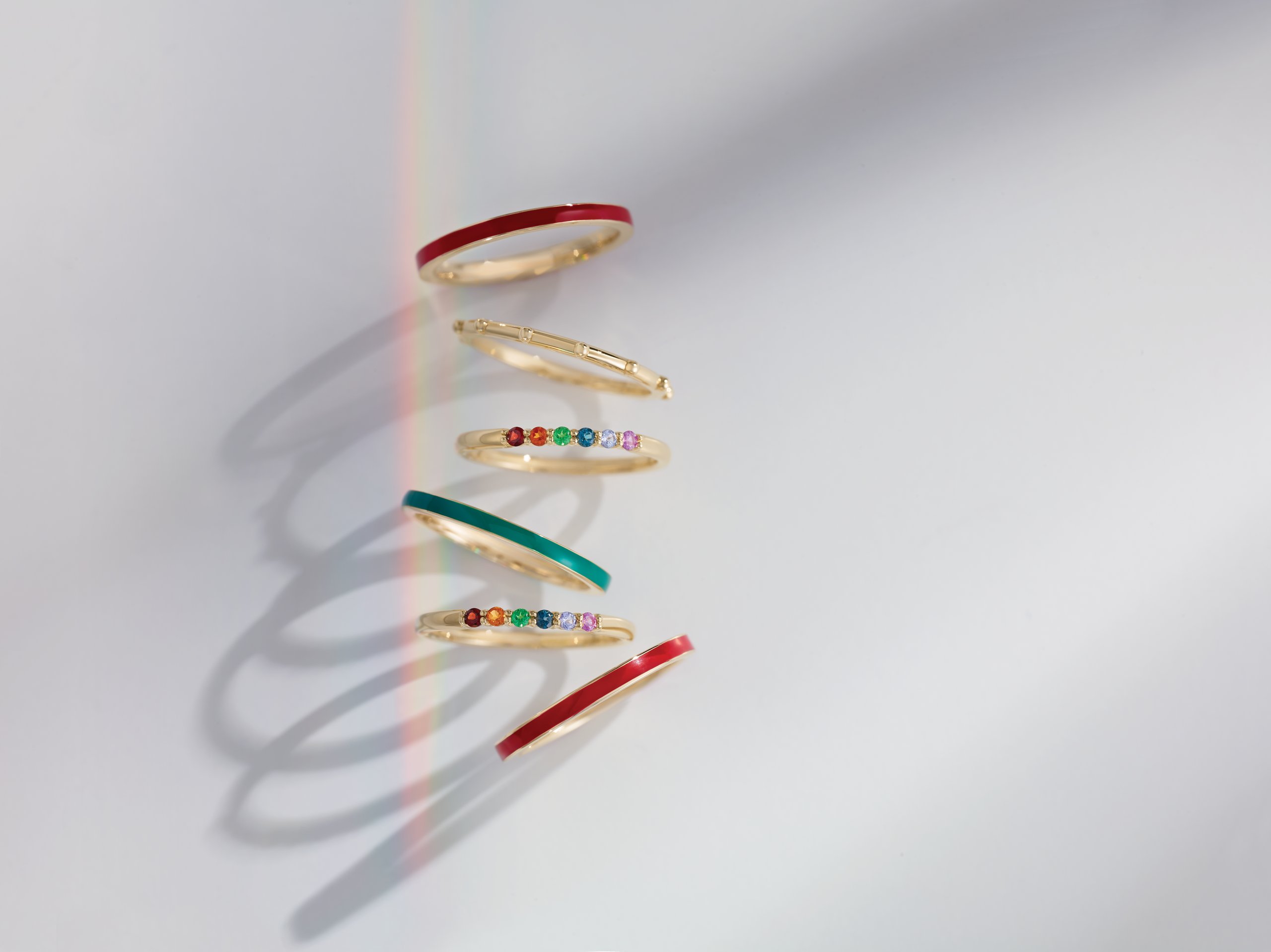 4. The Latest in Fine Jewelry Selling Solutions
We are very excited to release the Personalized Jewelry Selling System (688929) and the Flexible Jewelry Selling System (688935) at this year's JCK. Each selling system gives your customers the chance to make a piece truly their own. Whether adding an engraving or customizing a flexible 3C design, these prototype selling systems make it easy to create a one-of-a-kind piece for every customer.
Look for both of these items coming soon on Stuller.com.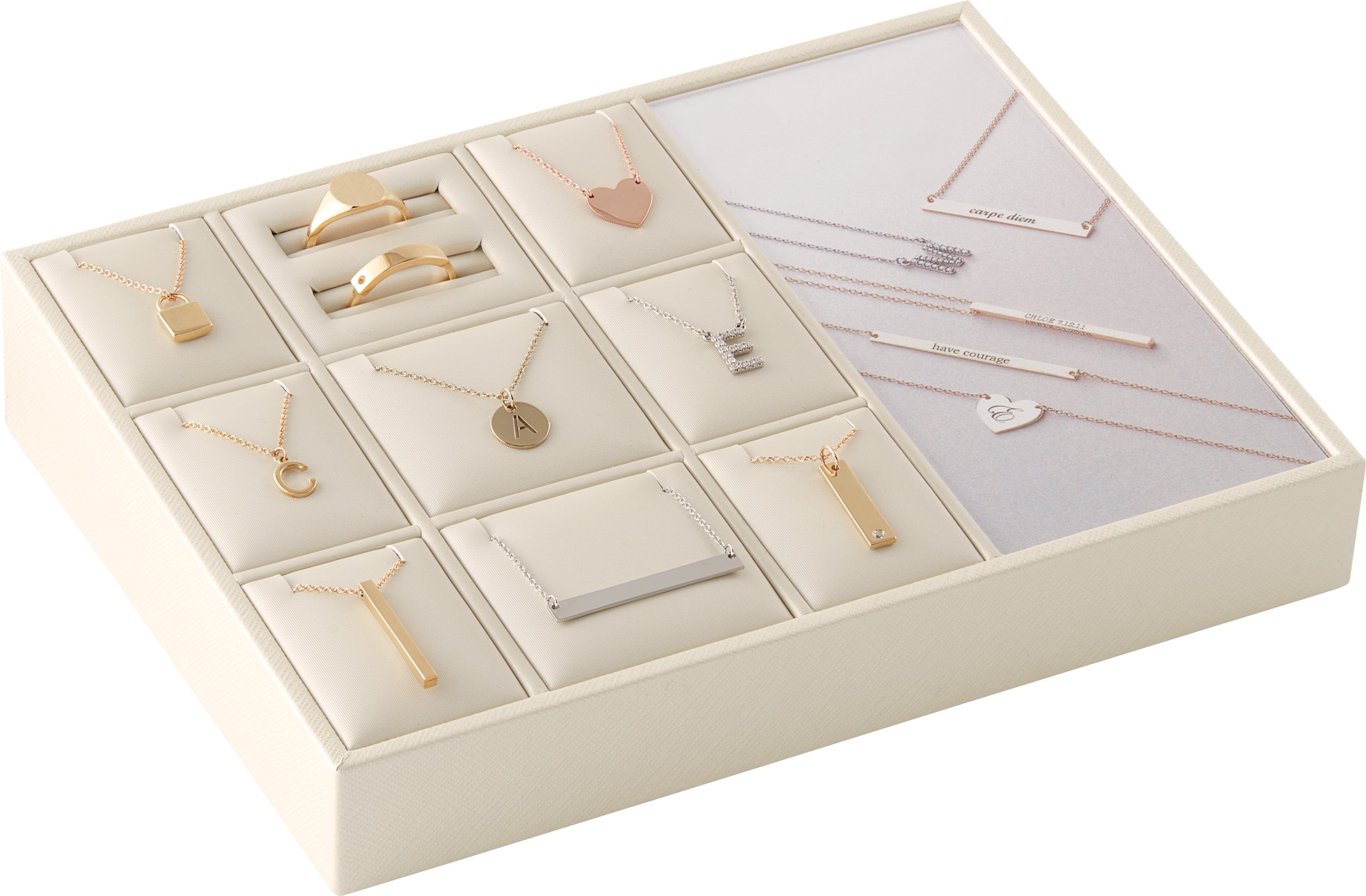 5. Lab-Grown Diamond Expansions
Lab-grown diamonds are on the rise in popularity, and you can rest assured that Stuller is constantly expanding its assortment to meet your needs. New to our offering are Asscher lab-grown diamonds and GCAL 8X™ Ultimate Cut Grade Lab-Grown Diamonds. We've expanded our lab-grown diamond assortments to include Asscher-shape diamonds, available in 0.05 carat to 1 carat. Sold with a GCAL certificate, 8X Lab-Grown Diamonds are recognized for their extraordinary brilliance and beauty. These lab-grown diamonds are meticulously analyzed and ultimately certified to be physically and optically excellent in eight critical factors of cut quality.
6. New to Piece by Piece™
Piece by Piece (2000400) is Stuller's interactive settings and shanks ring builder. Use this magnetic prototype selling system in your store to create an interactive design experience for your customers. The latest expansions to this popular selling system include birthstones and additional fancy shapes, available in multiple pre-assorted configurations. By adding expansions to your core selling system, you can feature more than 2,000 unique prototype combinations.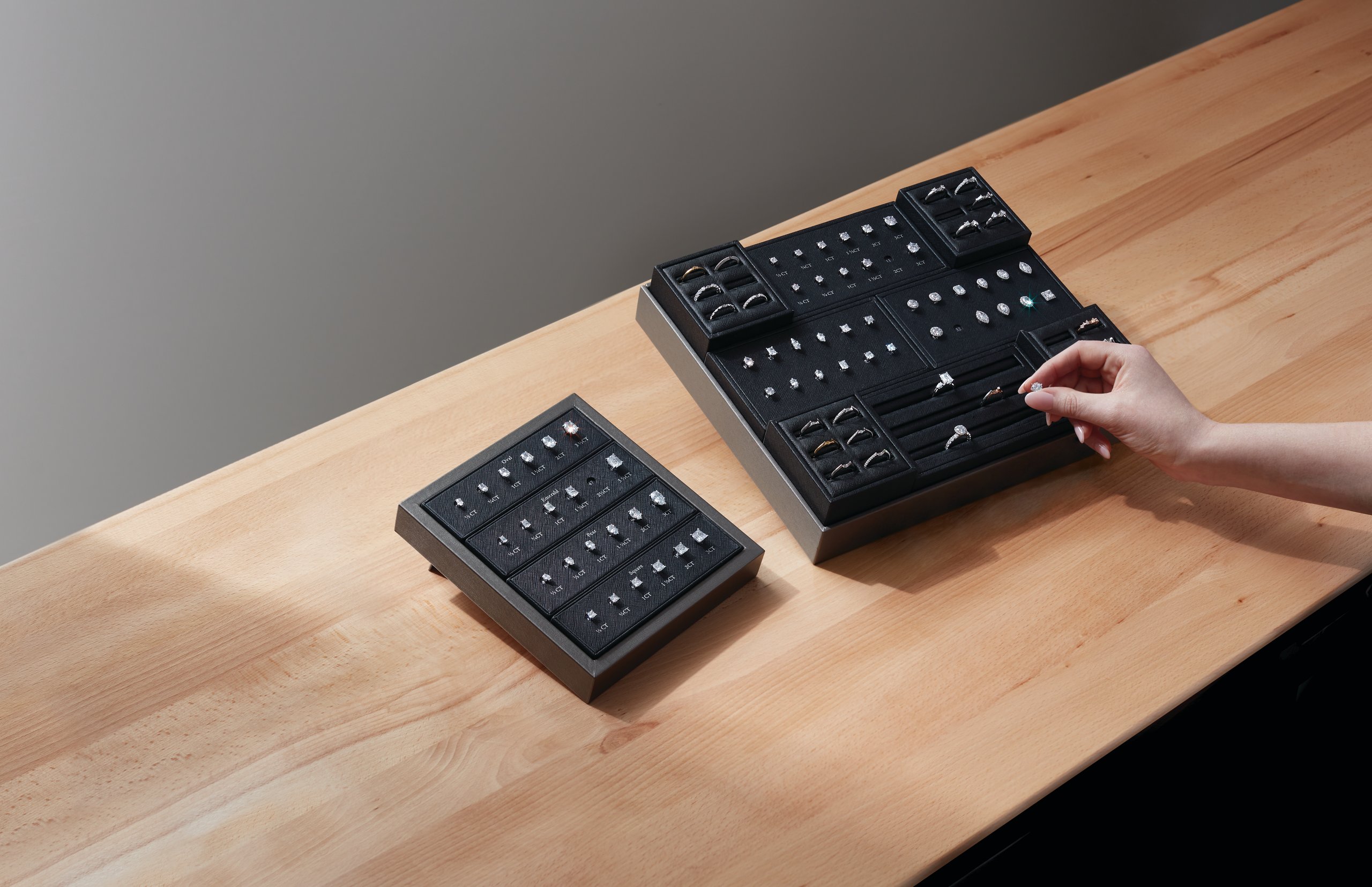 7. Innovative Tools and Equipment
Making your life easier at the bench has always been our goal with tools and equipment. Two new items that help achieve that are the Stuller Bur™ (78-1000) and the DualDraw® Downdraft work station (22-2000). Our newest bur was crafted with the stone setting process in mind so that you can cut precise angles for your jewelry pieces. Manufactured exclusively by Dedeco for Stuller, you'll get the most accurate cut every time. The DualDraw is great for removing harmful dust particles from breathing zones and eliminates cross contamination of adjacent process and equipment. Work with confidence knowing you can stay safe in your everyday tasks, such as casting and rhodium plating.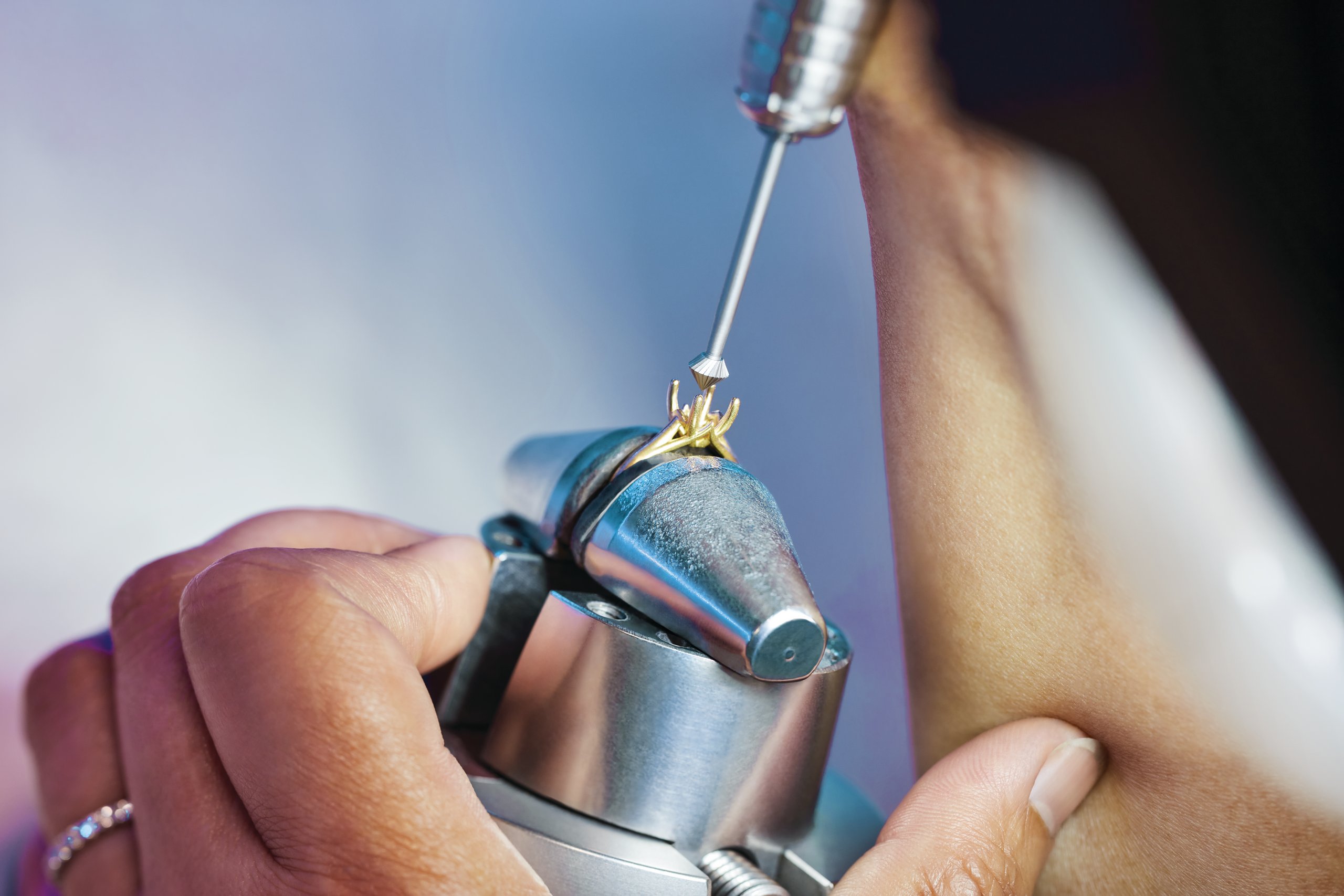 8. Beautiful Packaging and Displays
We are excited to bring 50+ new packaging and display items to JCK Las Vegas. Our most notable additions include new colors in our Madison Collection (61-0059) and new options in our Modular Magnetic Displays (61-9915). Combine these elements with your in-store experience for an updated and refreshed feel.
MatrixGold is the most powerful CAD software to date by Gemvision, and it brings a wealth of fresh features and benefits to the ambitious jewelry designer. The latest upgraded version, MatrixGold 3, brings new tools and important enhancements for an improved design experience. This paid upgrade features a new Gems Placer, Custom Gems Creator, as well as an advanced signet ring builder.
"With MatrixGold 3, we take a step forward in product development. This new version brings new tools and significant improvements to streamline the design process and increase productivity."

Oriol Collelldemont
Gemvision Product Director
10. CounterSketch® and B9Creations™ 3D Printing Integration
CounterSketch is an intuitive 3D design software by Gemvision that provides access to a range of customizable styles and production capabilities through Stuller's CAD/CAM Services. When combined with the 3D printing power of B9Creations, you can bridge the gap between the virtual and physical world by allowing your customer to try on a 3D printed resin sample of their jewelry — all within the first visit!
There is so much to be excited about at this year's JCK Las Vegas. Stop by our booths, meet the team, and find the next greatest addition that will bring your jewelry business to the next level.
Taylor holds degrees in Political Science and Communication from the University of Louisiana at Lafayette as well as multiple certifications from GIA. His years in the wedding industry and love of fashion trends helps him write content for the on-trend and creative jeweler.