Discover this season's standout bridal and fine jewelry trends from the desks of Stuller's product design and development team.
The current trend landscape is as multifaceted as a diamond; modern connectivity and social media make it possible for what seems like a thousand different trends to exist at once. With so many opportunities, it can be overwhelming for a retailer or designer to anticipate the buyer's needs — what's here to stay, and what's next?  
My name is Austin, and I am a senior conceptual designer on Stuller's product design and development team. I have worked at all levels within the jewelry industry for 15 years, including the better part of a decade working in the New York fashion sphere. I live and breathe jewelry design, and it never fails to thrill me when I spot a new trend bubbling up in the marketplace. 
Supported by extensive, solid research and forecasting, my team and I are here to help you understand which certain trends are impacting the current jewelry marketplace and how they can help you make an emotional connection with today's trend-conscious buyer.  
Join me as we dive into this season's most sought-after trends and aesthetics that are impacting the industry and how they are reflected in our latest designs.  
Seasonal Bridal Jewelry Trends
The bridal customer searching for a timelessly sophisticated ring — that still has a modern feel — has never had more options to choose from than today. Small changes to classic profiles can make a familiar silhouette feel fresh and exciting; think of core styles that allow you to take simple ring elements to a new level.  
For example, scale is key — a traditional solitaire engagement ring becomes a bold new creation by scaling up its band to command more presence on the finger. Add a matching anniversary band for a bridal stack that is truly stunning and feels unique to the wearer.   
This year, brides also seem to be looking for pieces that showcase their fairytale romance with elegant, dramatic designs. A regal aesthetic has been present in the marketplace for a few seasons now and continues to inject frothy, floral elegance and ornately clustered accents across all categories.  
Sculptural elements and artistic scrollwork come together in new engagement ring designs for a completely romantic, architectural feel; and, in this trend, men's bands are no exception. With or without accents, complementary floral accents make for a suite that is a testament to a love that will grow and flourish over time.   
Seasonal Fine Jewelry Trends
Earlier this year, a resurgence of white gold and silver jewelry made leaps in the fashion sphere, and for good reason. Endlessly versatile and effortlessly glam, white gold can be described as a chameleon for accessorizing; it can lend a quiet sophistication to your work wardrobe just as easily as it can elevate diamond accents to red-carpet levels of luxury. 
The verdict? White gold pieces are sure to be a staple in anyone's jewelry collection, especially for those who like to mix and match their metals for accessories that showcase their unique style.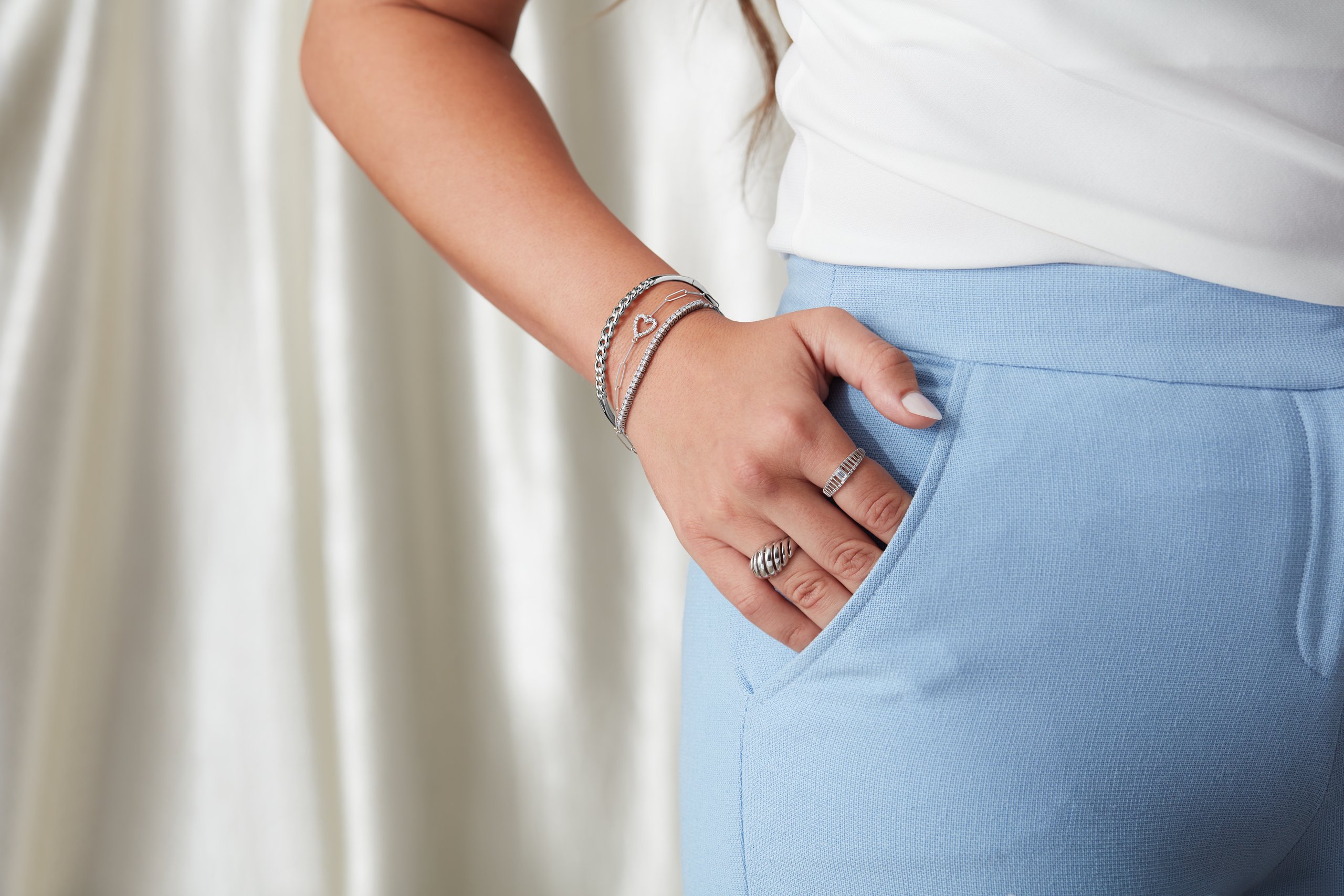 The latest product release from 302® Fine Jewelry offers the perfect starting point for this trend, giving you access to styles that are sure to be the highlight of your fall and holiday gift offering. Featuring new, on-trend designs that take white gold jewelry to the next level, these must-have products will encourage customers to explore endless opportunities for wearing their story.  
Get inspired with freeform silhouettes, oversized links, trending chain styles, and timeless diamond accents that add brilliance to the already lustrous appeal of white gold.  
As timeless as it is sophisticated, we've seen this trend take the fine jewelry atmosphere by storm. Emphasizing minimal silhouettes with subtle, nautical-inspired details, this trend is ideal for the buyer with a touch of fashion fatigue — someone looking for chic but versatile pieces that will stand the test of time and future trends.  
Channel this trend with minimalist, luxurious styles that are perfect transitional accessories. From dainty hoop earring designs to hidden gemstone accents, these styles complement a breezy linen ensemble for that last late-summer getaway and fall perfectly into place among the cozy layers of autumn. Look for compass motifs, bold sculptural metal, and classically chic pearls.  
With the anticipation and release of Barbie's big screen debut this summer, we previously predicted the icon's indelible mark on fashion and pop culture. The verdict? Fall fashion runways followed the Barbie buzz with nostalgic, soft, feminine elements, solidifying the trend as here to stay.  
Best described as pretty and playful, balletcore runway styles focused on whimsical tulle layers and girly-but-practical ballet flats that have many customers nostalgic for their own days of wearing tutus and playing dress-up.  
In fine jewelry, this imaginative trend takes a refined, elegant approach with simple styles that make a big impression — fluid gold becomes a delicate ribbon bow, gemstones in sweet pastel hues sparkle in diamond halos, and pearls nestle among dainty floral motifs.  
The beginning of the fall season typically beckons a trend reset that reflects the journey into cooler, richer tones, and colder temperatures. This year, fine jewelry is continuing to see more gothic glam, dark romance, and nods to grunge characteristics.  
Best exemplified by the alternative aesthetic, this trend comes alive in emblematic, industrial styles with a subtle edge — take inspiration from thorn and vine detailing, moody gemstone hues in claw prong settings, and daggers paired with twining roses for a feminine twist on a gothic motif. 
No matter the season, you can trust Stuller to bring you the latest trend reports, forecasts, and must-have designs in fashionable jewelry with a focus on enduring trends that benefit your business. Stay in the loop and follow us on social media @StullerInc for ongoing insights into the jewelry industry's hottest topics and our newest, accessible styles.
Senior Designer, Product Design and Development
Austin is a graduate of the Cleveland Institute of Art with more than 15 years of experience in jewelry production and design. Her interest in upcoming trends and industry research inspire her to focus on consumer products that celebrate the personal connection and self-expression of the wearer.