Discover tips, tricks, and trending styles that are sure to make this your business' best holiday shopping season yet.
It's that time of year again — the holiday shopping season has started! Customers will soon be on the lookout for the perfect jewelry styles to surprise their loved ones, and there's no better time than the present to get started on curating your holiday gift offering and in-store strategies ahead of the hustle.
With Stuller's incredible assortment of sought-after styles, leading jewelry trends, branding essentials, and holiday resources from our in-house experts, we've gathered a few key tips and product recommendations to help get you started.
Let's take a look at our guide to driving sales and starting your holiday selling season strong through brand-new products, impactful marketing strategies, and more.
Creating a Memorable Shopping Experience
Even though the holidays might still feel far away, time is your best resource and biggest advantage for the busiest season of the year.
According to retail experts like National Retail Foundation (NFR), consumers are still looking to physical stores for their shopping needs as standing locations remain the primary point of purchase, accounting for approximately 70% of total retail sales so far in 2023. Why is this relevant? 
Taking the extra steps this year to rethink or elevate your shopping experience for new and existing customers can be your chance to foster long-lasting connections that continue well after the holidays.
This season, think about every part of your store and shopping experience, whether it's physical or online. What visual story will you tell? What elements of your offering can help you to stand out? From store layouts to product displays, a storytelling experience is in nearly every aspect of your business, giving you a great opportunity to make and leave a lasting impression. As always, Stuller has you covered every step of the way.
1. Stock Up on Top-Trending Styles
Dinners to dancefloors, heartfelt gatherings to shimmering soirees — this year, we're seeing jewelry gifts get the ultimate upgrade with more options than ever in personalized, stackable styles, larger carat weights for maximum shine, and reimagined classics that bring joy to anyone's everyday selection. 
Did You Know?
You can set any Stuller mounting with our selection of more than 125,000 lab-grown diamonds, and this year, we've added thousands of brand-new lab-grown diamond jewelry styles in bridal, fine jewelry, and findings with higher carat weight designs that combine bold aesthetics and unforgettable "wow" factor elements.
Our team's dedication to researching the newest trends and forecasts makes it easier than ever for your customers to find the perfect gift with our curated list of must-have styles in your cases. 
Discover these styles and more on Stuller.com with access to our latest 2023 Holiday Sneak Peek — your guide to the season's strongest jewelry trends like lab-grown diamond jewelry, chain, customization, and more.
2. Expand Your In-Store Options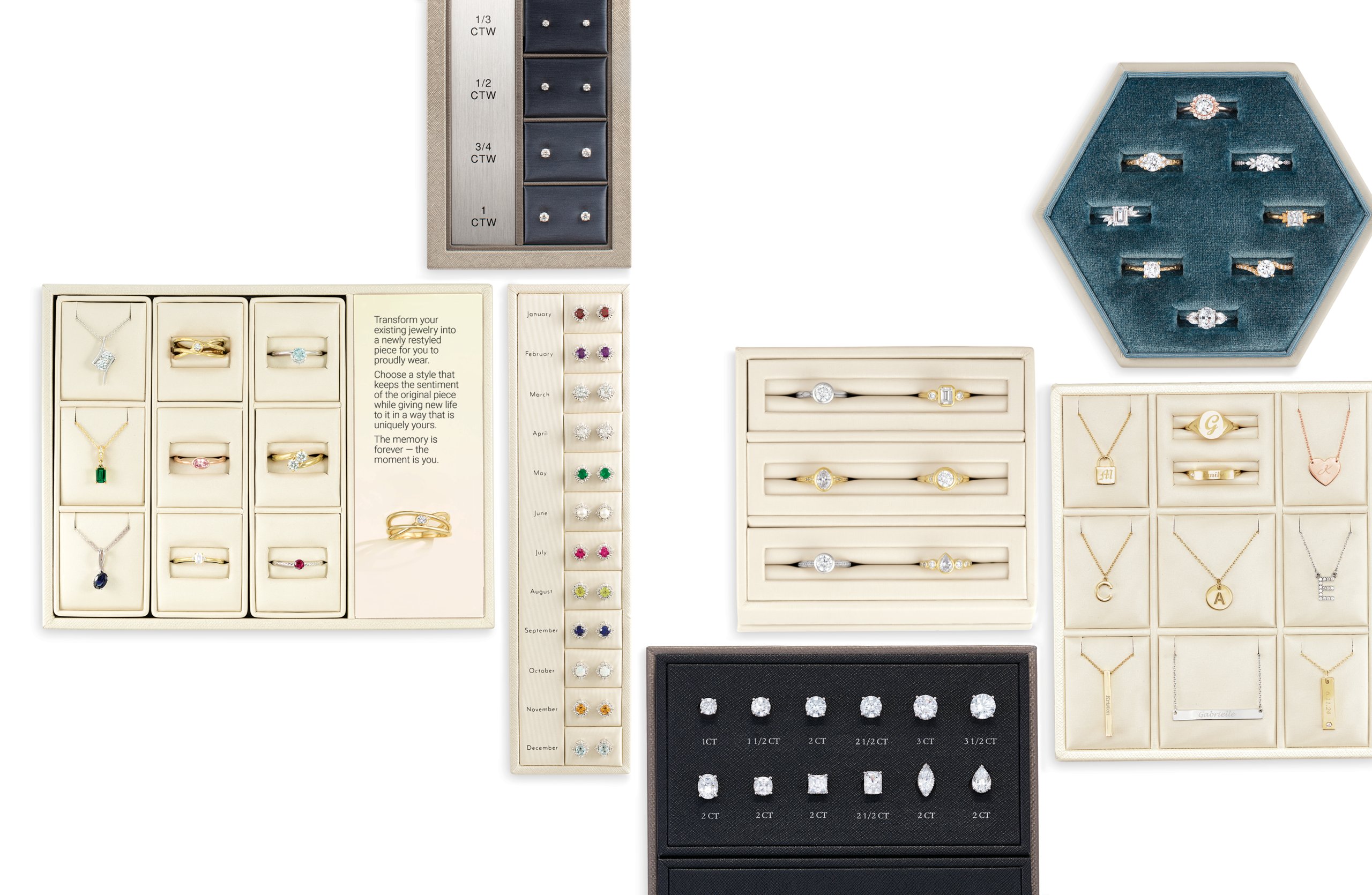 Whether your customer is searching for the perfect holiday proposal piece or a personalized, everyday style for their loved one, investing in selling systems and solutions for your case can be an easy way to offer a curated range of gift ideas right at their fingertips and increase your sales.
From bridal jewelry and wedding bands to fine jewelry must-haves like chain, natural and lab-grown diamond stud earrings, personalized treasures, and birthstone jewelry, Stuller offers a complete selection of selling solutions for any and every business to cater to customer requests.
3. Strengthen Your Branding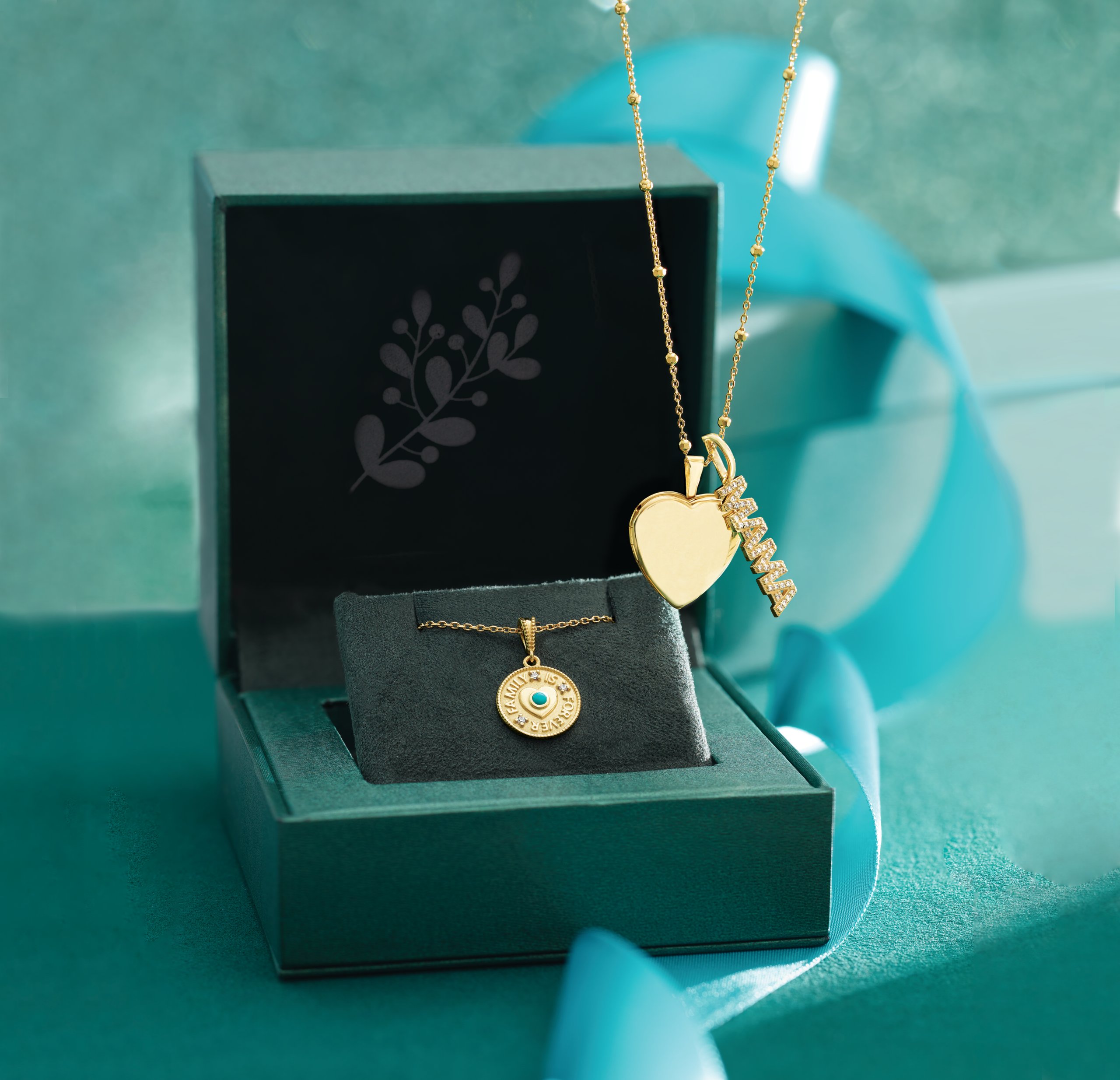 Your brand isn't just a name, logo, or symbol – it's an experience that travels with your customers from the moment they step into your store to the last unboxing. A strong brand identity not only sets you apart from the competition but also creates an emotional bond and keeps your business top of mind at every touchpoint.
With the right selection of stunning packaging and displays, you can easily elevate your brand game, from showcasing your pieces in the case to the moment they find a place under the tree.
Explore the art of maximizing your branding with Stuller's custom imprinting services and solutions that offer a unique touch to any gift packaging. Offering more than 40 different colors for custom imprinting, two methods of customization, and step-by-step, one-on-one support, Stuller helps your jewelry business to create an unforgettable experience while keeping your customer's needs in mind.
Pro Tip:
Continue the excitement of an unforgettable gifting experience with festive wrapping, jewel toned jewelry boxes, and bags tied with vibrant ribbon to seal the deal. Moreover, don't underestimate the power of the essentials. Having items like jewelry cleaners readily available reinforces your commitment to your customers' happiness. It's these simple yet thoughtful touches that show you go the extra mile.
Your Trusted Holiday Resource
Remember, while the holiday season brings in higher volume sales, early preparation gives your business the upper hand within the industry to create an experience that sticks with your customers long after that initial sale. As you dive into your holiday selling strategies, keep our expert tips in mind — and remember, starting early sets you up for success!
With our curated hotlist of on-trend styles, matchless services, and dedicated support, Stuller is here to help you make this season your best one yet, getting you through the holiday hustle. 
Keep an eye out for more holiday resources to come, as well as our comprehensive 2023 Holiday gift guide. In the meantime, get ready for a season full of promise, embrace early preparation, and let the celebrations begin with our 2023 Holiday Sneak Peek brochure!
Claire is a graduate of the University of Louisiana at Lafayette with a degree in Journalism. Her advanced writing background combined with her love of staying on top of the latest trends helps her find the perfect content to bring to the jewelry industry.