Discover Stuller's newest packaging and displays that will elevate the shine in your showcases.
As a jeweler, you understand how important it is to display your pieces in tasteful and engaging ways to draw in customers and give them an unforgettable shopping experience. One of the best ways to showcase your jewelry and elevate the shine is with the right packaging and displays. It may very well be your thoughtful packaging and display pieces that provide the "wow" factor that brings repeat customers and word of mouth to your business.
We are excited to bring you Stuller's newest brochure, New Packaging & Displays 2023. Our team is ready to help you refresh your showcases with the latest trending silhouettes and fabrics in displays, principally sourced packaging, custom imprinting, logo branded boxes, personalized printed tissue, and much more. Let's dive into a few of our favorite highlights from the new brochure.
It's commonly understood that "good things come in small packages." Thoughtful packaging with intention is a great way to showcase your jewelry treasures even before they are unwrapped. Consider mixing complimentary colors and finishes in trending packaging for an engaging and visually appealing aesthetic. Our team's top trending packaging styles include the Selene Collection 61-9953, the Clara Collection 61-9952, and the Glimmer Collection 61-9956.
#2 Travel Cases, Folders, and Pouches
With the increase in traveling during the summer vacation season, you'll want to help your customers keep their precious jewelry safe while they're on the go. Our team's favorite picks include the Hadley Collection Brushed Leatherette Necklace Folder 61-9961, the Opulence Collection Velveteen Rectangle Travel Case 61-9941, and the Milo Collection Leatherette Pouches 61-9950 (available in a variety of options for laying out bracelets, necklaces, and pendants).
#3 Pre-Assorted Display Sets
Your jewelry displays will help to direct attention to certain sets and collections —these should be placed in prime viewing spots in your showroom. Stuller offers pre-assorted display sets and modular sets that will effectively show off your rings, necklaces, earrings, and bracelets. Our team's top picks include the Leatherette Modular Sets in Black, Moon Glow and Palladium 61-8324, the Leatherette Assorted Display Set 61-0229, and our Leatherette Bridal Display Set 61-0201.
Looking for unique necklace, bracelet, and ring displays that are trending? Customers are drawn to jewelry displays that offer a new look to get them excited about your pieces. Top picks include our Brushed Leatherette Necklace Stands 61-0545 (available in tall and short), Leatherette/Metal Bracelet Bars 61-9944, and Leatherette Hexagon Ring Stands 61-0551 (available in tall, medium, and short).
#5 Principled Sourcing: New Packaging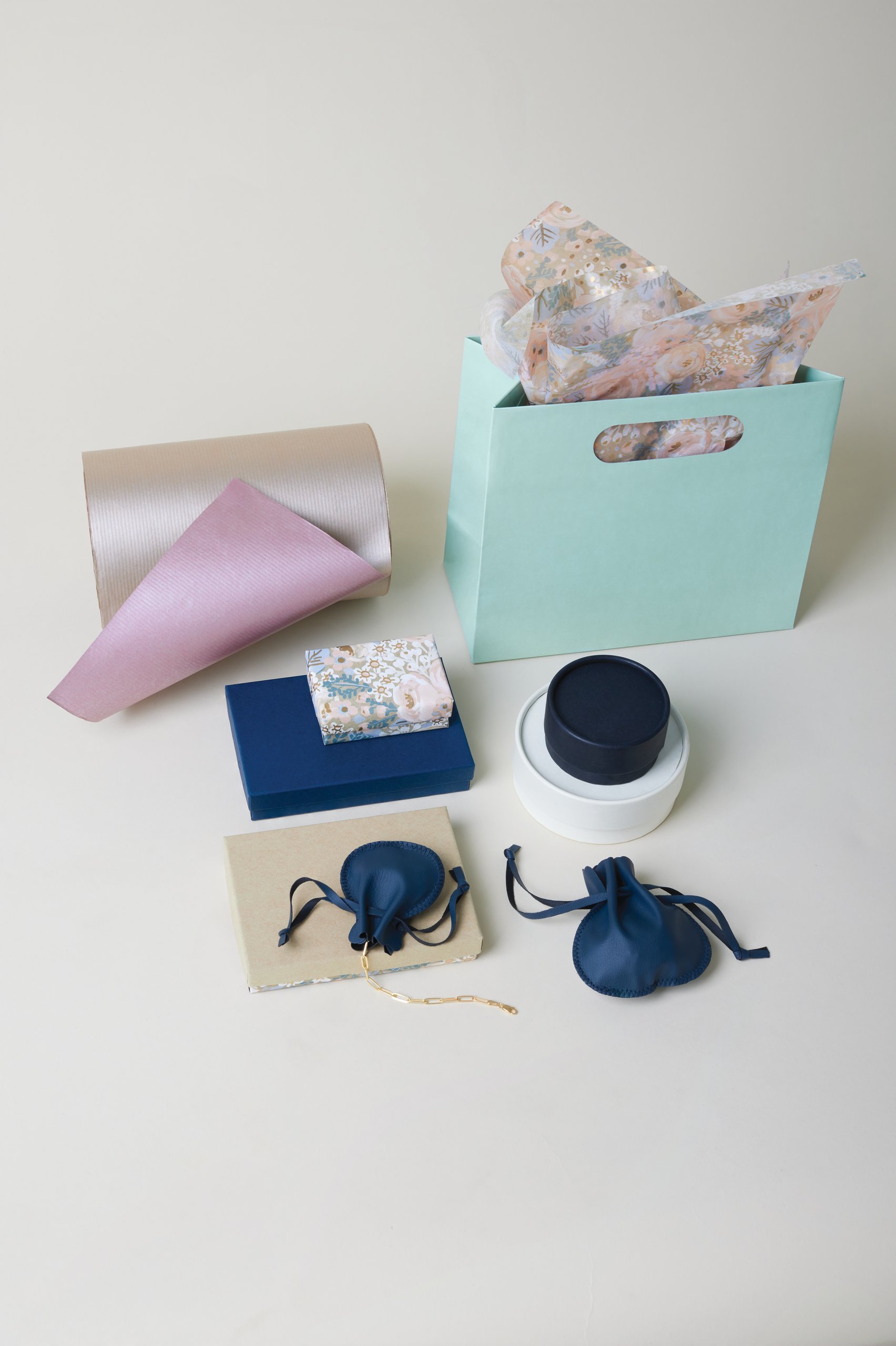 Recognizing the challenges associated with providing products in a responsible manner, Stuller works closely with our suppliers to ensure our products are produced in the most ethical way possible. We've added in a glossary of terms on page 17 of our new brochure for complete transparency.
#6 Custom Imprinted Packaging and Displays
Showing your brand through custom imprinted packaging and displays is a great way to make a lasting impression. With hot foil stamping and digital imprinting options, our offering allows you to create your desired look to carry your brand throughout your showcases. Learn how to build your business with Stuller's branding solutions with this previous article. Our Custom Imprinting Specialists are ready to help you with guidance and support every step of the way.
As a jeweler, you know it's imperative to ensure that your showcases are attractive and eye-catching for customers. After all, you want them to be inspired to purchase that sparkling diamond or gorgeous gemstone piece you've just put out. By incorporating new packaging and displays into your showcases, customers will be excited to explore and find the perfect piece to fit their needs and style.
Consider showcasing complementary items in the same case to give customers an inspiration piece, like pairing rings with earrings or watches with necklaces and pendants. By relying on Stuller's wide variety of new packaging and displays, you can make each customer purchase an exceptional experience.
Project Specialist, Packaging and Displays
Macy holds a master's degree in Business Administration from the University of Louisiana at Lafayette. Her experience in marketing and entrepreneurship helps her contribute to the team developing packaging and display products that meet the modern jeweler's needs. She also enjoys researching and understanding the latest jewelry trends so she is always on top of what's coming in the industry.