Learn about the newest Stuller.com features designed to enhance your online shopping experience.
In today's ever-changing digital landscape, businesses across all industries are adapting and evolving to meet the growing demands of online shoppers. At Stuller, our experts and teams are constantly striving to redefine online jewelry shopping to make it easy, reliable, innovative, and intuitive for you.
These new digital improvements have been made to Stuller.com to make your shopping experience as seamless as possible. From helping you bring your custom jewelry designs to life, to new financing now available and automatic payment options, let's look at a few revamped favorites and brand-new additions on our website.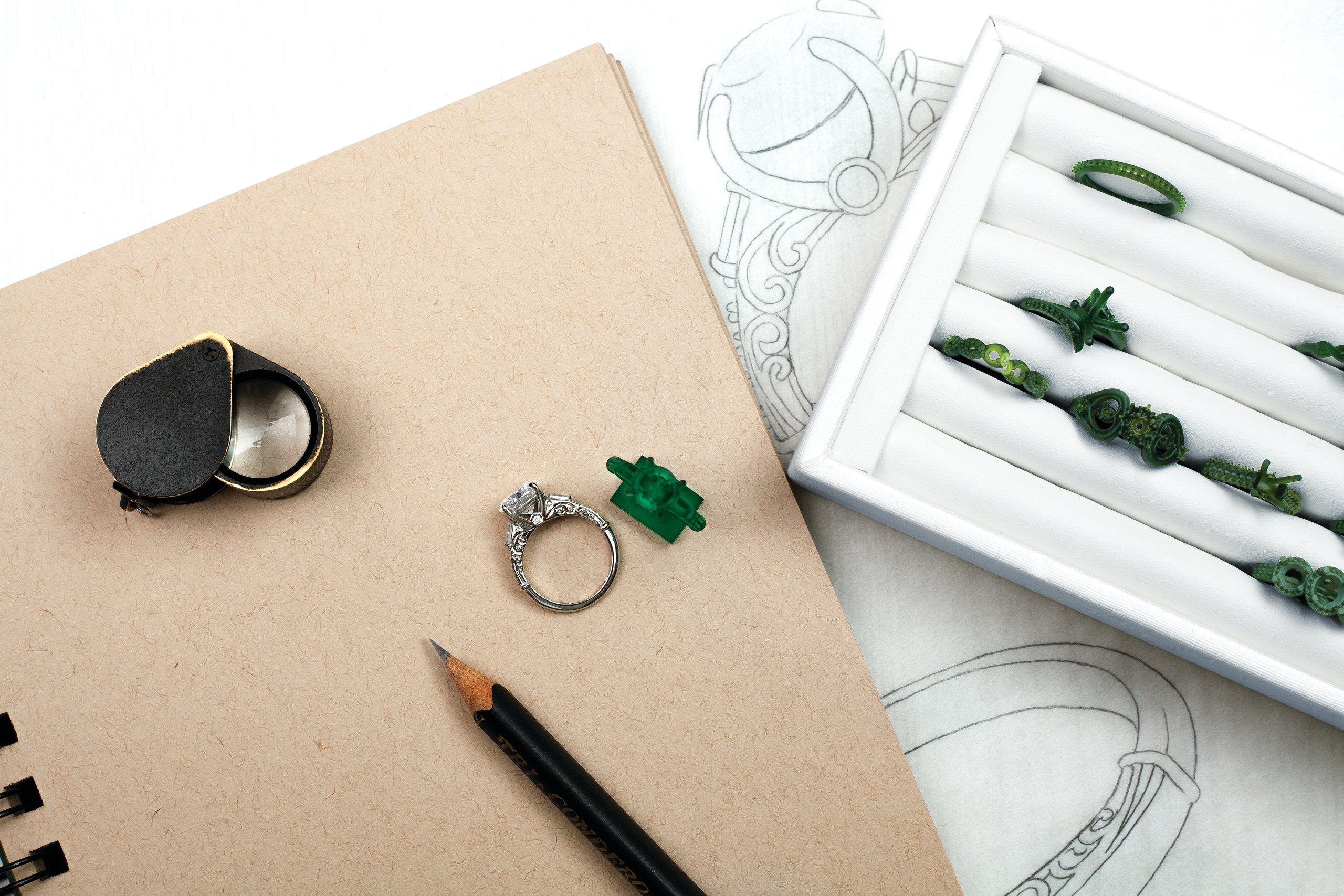 As a jeweler, you understand the importance of visual impact, and we do as well. Over the past few months, we've redesigned and modernized the way you submit custom orders to us on the CAD/CAM Services webpage.  
According to Joe Varino, Stuller's digital quality assurance team lead in web development, newer technologies behind the scenes were utilized to enhance the presentation and make navigation easier. "The main thing that changed is the display of everything," Joe says. "We've updated and made everything look aesthetically pleasing. It just looks better and it's easier to navigate."  
CAD/CAM Services: Highlighted Usability and System Improvements
There are four paths to take when submitting custom orders on the CAD/CAM Services page including Modify a Style, Submit a Sketch, Submit CAD Design, and Submit a Wax or Resin.
Modify a Style: Customize any Stuller style and receive a quote and render within 1-2 business days.
New and improved form to fill out — we'll do the rest
Improved layout with no more "hidden" steps
Ability to include supporting images with your submission
Expanded options for laser engravings
Submit a Sketch: Take any 2D design idea into 3D form by submitting a drawing or inspiration image(s) to our team. Fill out the form, upload your images, and our CAD designers will work with you to bring your vision to life.
Enhanced way to submit sketches with your project
Expanded options for laser engravings
Improved layout and page structure
Submit a CAD Design: Have a completed design and need it manufactured? Upload your CAD file and fill out the form. We will send a quote and render for approval within 24 hours. If any modifications are needed, please contact our CAD/CAM Customer Care team. 
Improved layout and page structure
Enhancements to the CAD file submission
Ability to include supporting images with your submission
Submit a Wax or Resin Design: If you need to cast a wax or resin model, simply fill out the submission form and ship your model to us for production. 
Improved layout with no more "hidden" steps
Ability to include supporting images with your submission
Expanded options for laser engravings
For website technical support call 877-619-2174 Monday – Friday, 8:00 a.m. – 6:00 p.m. CST.
A New Way To Pay Automatically
Pay Bill has been a feature on the My Account Dashboard for three years on Stuller.com. However, we've recently added a new option so that customers can set it up to automatically pay their statement balance every month.
Instead of logging in to pay certain invoices off manually when they become due, you can now manage your balance with Autopay and set up automatic payments. This is especially helpful for customers who regularly have a large balance and would like it to continue being paid off every month. Automatic payments save time and take the guesswork out of having to manually select which invoices to pay each time.
Stress-Free Financing: Buy Now, Pay Later

Now you can upgrade your shop without breaking your budget with StullerPay ™, a new finance option we've rolled out this year. Enjoy new tools and equipment with the choice of monthly installment terms to fit your needs.
The highlights of StullerPay™ include
One-time fees starting as low as 0%
No payment is due at checkout
Automatic payments to begin 30 days from when your order is shipped
Eligible Tools for Stuller Pay™
Certain big ticket items including casting machines, welders, rhodium, workbenches, drill presses, microscopes, and screeners are available to purchase with StullerPay™. Browse all eligible tools here.
When viewing the item you're interested in purchasing, you'll see the StullerPay™ display to the right. If you are a pre-approved customer, you'll see what your payment options will be when you click on the box. If you're not a pre-approved customer yet, you'll see a prompt to fill out a form to learn more.
According to LeAnne Ganucheau, Stuller's director of sales operations in customer experience, "Stuller Pay™ is similar to a line of credit in that it allows our customers the opportunity to make money using the equipment that they can pay off over time. They do incur a flat fee that goes with it, but because it's non-amortized interest, it is just a singular fee, and it's much cheaper than if they were to take out an equipment loan at a bank."
StullerPay™ is available to qualifying accounts only. For more information, start a live chat or contact our team of experts at 800-877-7777, ext. 550.
Our teams are steadily designing exceptional digital experiences in all areas of Stuller.com to empower jewelers with an engaging and effortless online shopping journey. Be on the lookout  for many exciting new developments to come.
Don't have a Stuller.com account yet? Sign up for yours today!
Cheryl holds a bachelor's degree in Broadcast Journalism from the University of Louisiana at Lafayette. Her extensive experience in the radio and print magazine industries along with her love for custom jewelry and people paved the way for her to become a Stuller storyteller.