Gold is still at the top of the precious metal food chain. Each color has its time to shine. Think a few years back – everything was about white gold. Everyone wanted to own a piece highlighting the white hot metal. Next came feminine rose gold. In the last couple of years, it's started to pop up everywhere – chains, earrings, pendants to list a few. But! Although rose is still prevalent at the moment, yellow gold has started to make a come back, and it's aiming for the top spot. After all, gold in its purest form is yellow.
The month of May celebrates not only emeralds (as the month's iconic birthstone), but also the traditionalist, yellow gold. So, what's trending? We wanted to share some favorites with you:
Beading
Beading is a new trend to the market. It's fashionable while being effortlessly classic. It adds non-stone accents to a piece, which can help if your customer is looking for something budget friendly with a bit more oomph. Wear it alone or stacked with other styles or textures. We love it and it's not going away any time soon.
Petite Studs
Petite studs are making a huge splash in the industry. These are great price point pieces, which make them a perfect purchase for yourself, or for a gift. Petite studs are a complementary accessory when layering necklaces because they don't take away from the necklace, but rather add to the look as a whole. You can dress them up or down with jeans or a dress.
Two-Tone
For those who are not ready to fully commit to yellow gold, a two-tone option is perfect. The yellow gold in the pieces below is subtle, but still makes a statement.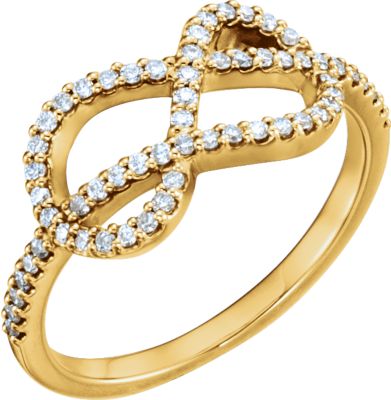 My favorite ring that we have currently is item number 122826. It brings together two popular styles, infinity and knot. The yellow gold really makes a statement when wearing this ring.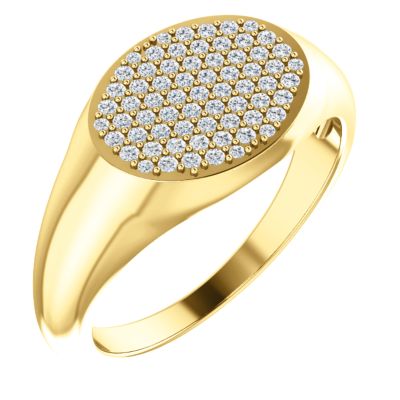 Signet rings have always been around. This year at Vincenza, we noticed that pave was huge. This ring combines the two – a traditional signet with the top covered with pave diamonds.
What gold pieces are your customers buying these days? Tell us in the comments section below.