Stay at the top of your game with the latest products.
We are continually working to provide you with the best new jewelry styles, innovative selling systems and tools, plus beautiful packaging to help you stay at the top of your game. We present this first quarterly update for 2022 to show you a few new products available now at Stuller.
Twice the Love: Reversible Eternity Band
Eternity bands, a symbol of eternal love, typically have diamonds or gemstones all around the entirety of the shank. Our new Reversible Eternity Band gives your customers the option to have "twice the love" with two looks in one ring.
This ½ and ½ ring has two settings — one half of the shank features a bezel setting while the other half features a shared prong setting. This allows the wearer to show off a different style on the top of the ring depending on their mood. All they have to do is turn the ring to switch up the looks.
Fresh Celestial Styles: What's Your Sign?
Celestial motifs remain in motion for 2022 and there's a demand for increasingly personalized pieces. Adele, Meghan Markle, Jessica Alba, Gigi Hadid, Kendall Jenner and Rihanna have recently been seen wearing celestial designs.
In addition to traditional birthstone gemstones, there are 12 zodiac gemstones, 12 zodiac signs, and 12 constellations in the zodiac family. So, whether your customers prefer to wear jewelry featuring their own birth sign or the birth signs of their children and/or loved ones, the choices for personalized celestial pieces are endless!
Our best-selling Three-Stone Cluster Earrings are available in all of the zodiac gemstones. Check out our Zodiac Sign Earrings and gorgeous Diamond Constellation Rings. Stuller has a variety of fresh celestial designs including rings, pendants, charms, necklaces and earrings.
Live Gemstone Color Cards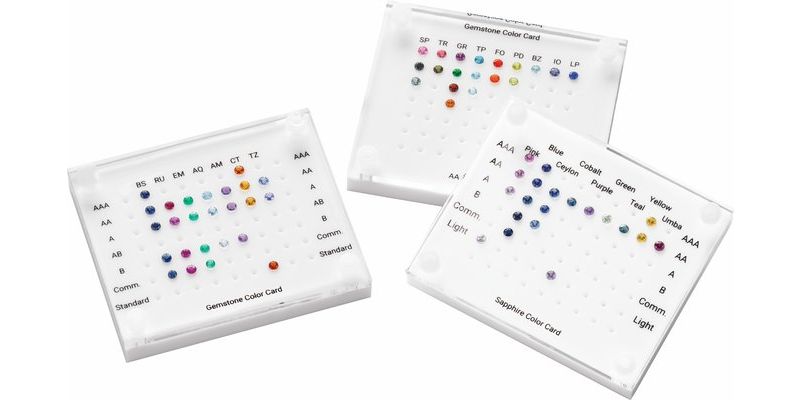 Stuller's new Gemstone Color Cards are pocket-sized cards featuring live gemstones to highlight how color changes within different qualities of stones. These gemstone cards are vibrant visuals to help your customers select the perfect color. You can use them as a training tool with your team and keep them handy on the bench to reference during repairs and custom design projects.
Our Best Selling Gemstones Color Card features a calibrated assortment of live gemstones. These are the stones most of our customers sell frequently and also have the most frequent questions about quality differences. Gemstones included are: Blue Sapphire, Ruby, Emerald, Aquamarine, Amethyst, Citrine, and Tanzanite.
The AA/Standard Gemstone Color Card focuses on AA/standard gemstone qualities of stones with many color options including: Spinel (pink, black, grey); Tourmaline (pink, green); Garnet (Rhodolite, Tsavorite, Mozambique, Spessartite); Topaz (London, Swiss, Sky); Fire Opal (standard, cherry); Peridot (standard, Arizona); Blue Zircon; Iolite; and Lapis.
The Sapphire Color Card is perfect for creating a durable rainbow or ombre´. Sapphires included are: Pink, Blue, Ceylon Blue, Cobalt Blue, Purple, Green, Teal, Yellow, and Umba.
All three gemstone cards can be purchased as a complete set. Each one complements the others and will help you be prepared to answer any gemstone question you may receive from a customer.
The Madison Collection: New Colors
The newest colors in our Madison Collection of ring and stud earring boxes include black, ivory and olive. Also available: navy, rust, silver and teal. The black box includes a matching two-piece outer carton while the other colors come with an ivory two-piece outer carton.
The Madison Collection features a petite square velvet box with color-matched velvet interior,  perfect for a surprise proposal or to hold an eye-catching pair of studs. Add your logo and pick colors that fit your brand to provide the finishing touch to your customers' purchases.
Cheryl holds a bachelor's degree in Broadcast Journalism from the University of Louisiana at Lafayette. Her extensive experience in the radio and print magazine industries along with her love for custom jewelry and people paved the way for her to become a Stuller storyteller.