Enjoy the brilliance and strength of diamonds combined with the glorious colors of gemstones.
Color-enhanced diamonds are a great way to add a fabulous splash of color to any design. With color-enhanced diamonds, your customers will get the brilliance and strength of diamonds combined with the glorious colors of gemstones. It's definitely a win-win situation!
At Stuller, our vast natural diamond assortment includes color-enhanced diamonds and fancy color diamonds. Both are mined from the earth. So, what's the difference between the two?
Natural color-enhanced diamonds start out as nearly colorless diamonds in their raw state. They get their color from enhancement methods performed in laboratories, allowing for consistent supply and lower price points than their fancy color counterparts. 
Natural fancy color diamonds are incredibly rare and expensive and, depending on size and characteristics, can often be seen going to the highest bidder at extravagant prices at well-known auction houses. "It's a fall full of pink diamonds" according to National Jeweler with several famous natural fancy color pink diamonds recently selling for anywhere between $25 to $57 million each.
Color Enhancement Processes
Color enhancements are completed in a laboratory using one or two methods, irradiation or high pressure/high temperature (HPHT). Irradiation and HPHT processes transform the natural diamonds into a rainbow of beautiful colors. Optical atomic defects within diamonds are what cause a diamond to present as a color — the treatments create, change, or intensify those optical defects, thus enabling new colors to show themselves.
Irradiation works at the atomic level of a diamond's structure. High speed particles bombard the diamond and knock its atomic crystal structure. As a result, vacancies within the atomic arrangement are created. The new vacancies absorb light differently and therefore change the apparent body color of the diamond. Sometimes, this process is followed by a standard heating method (known as APHT or LPHT) to generate new colors.
Irradiated enhanced color diamonds, like all diamonds, are legendary for their hardness and durability, resistant to general wear and tear, and not subject to change over time. Therefore, they require no special attention in daily use. It is only when they are subjected to temperatures above 450°C (900°F) that great care is needed. Generally, the only time this happens is at a jeweler's bench during the resizing of a ring. 
High Pressure/High Temperature is meant to replicate the natural growth process of diamonds within the earth's mantle. Through this process, the atomic structure of the diamond is being modified by introducing and/or migrating atoms within the diamond and healing existing optical defects. This variety of newly created atomic arrangements opens the door for many shades to be displayed.
HPHT enhanced colored diamonds require the least care. Like all diamonds, HPHT colored diamonds are known for their hardness and durability, resistant to general wear and tear, and not subject to change over time. They require no special attention in daily use and can also be subjected to high temperatures. 
Color enhancement is always noted on our website by its specific AGTA (American Gem Trade Association) code.
Color-Enhanced Diamond Collection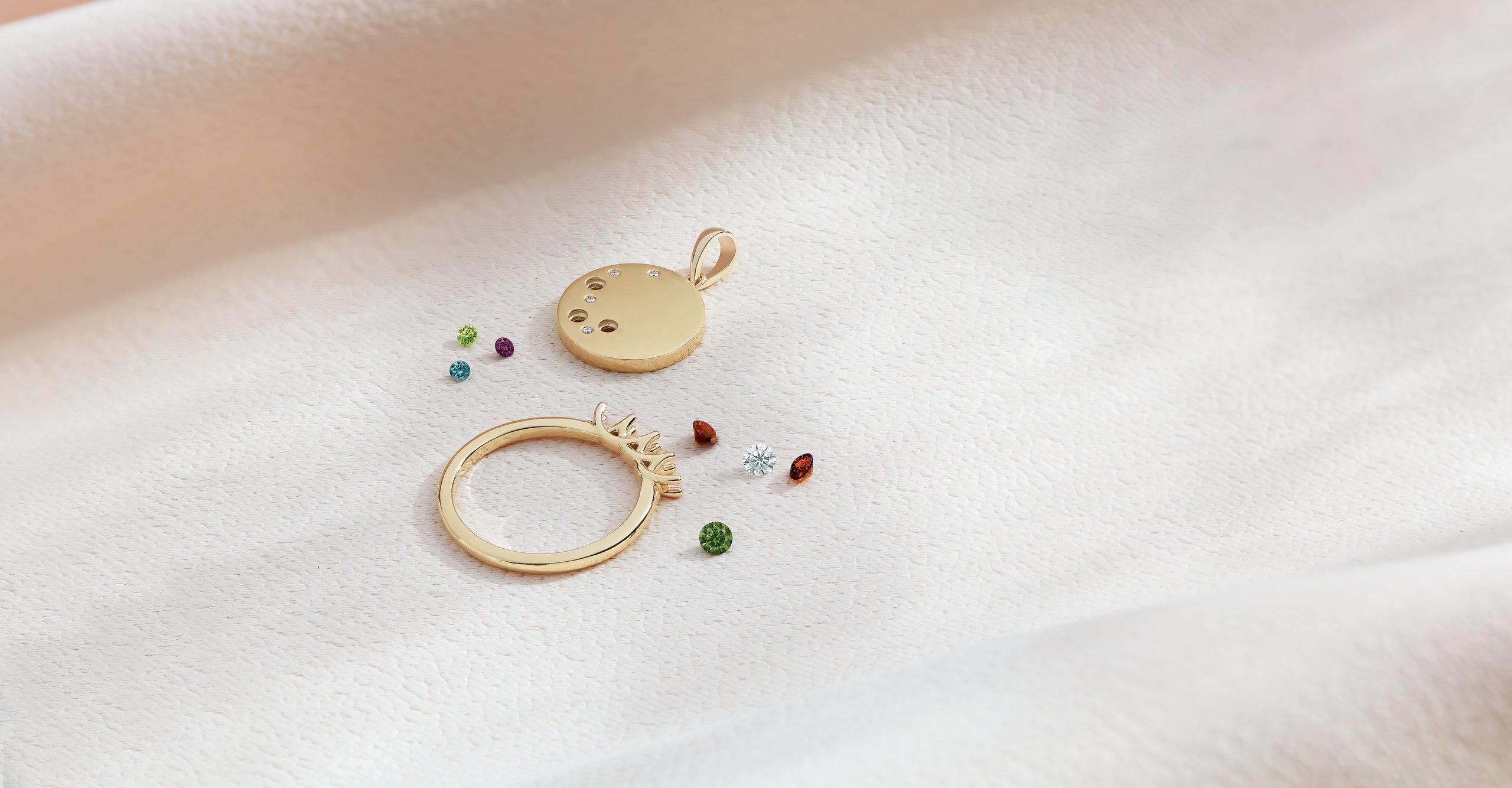 Stuller's Color-Enhanced Diamond Collection features these 12 shades:
Apple Green
Canary Yellow
Pink
Aqua Blue
Dark Green
Purple
Black
Garnet Red
Teal Blue
Burnt Orange
Mint Green
Yellow
These twelve colors are all available in round ranging in sizes from 0.80mm (0.0025ct) to 1.00ct. with black round diamonds going up to 2.00ct. Teal Blue and Yellow are also available in square in sizes 1.50mm (0.02ct) to 1.00ct. Black is also available in square, marquise, and emerald shapes in sizes ranging from 1.60mm (0.05ct) to 1.15ct with each shape varying in size offering. The colors and shape offerings flow over into both melee and large assortments.
Color-enhanced diamonds make stunning choices for any and all jewelry projects. As a natural diamond, they are rated 10 on the Mohs hardness scale and are rated excellent for everyday wear. These diamonds would be great additions to any fashion piece, family jewelry, and can be brilliant birthstone alternatives.
Brilliant Birthstone Alternatives
Color-enhanced diamonds are an excellent option for traditional birthstone jewelry. We offer the colors of traditional birthstones with the durability and shine of diamonds. For customers who want the look and glamour of natural fancy colored diamonds without the high price, color-enhanced diamonds are more affordable and readily available.
An article in National Jeweler about Jennifer Lopez's rare green diamond engagement ring indicates how rare specific fancy color diamonds are: "From 2008 to 2018, diamonds with a 'pure' green, blue, or red color comprised less than 0.07 percent of all diamonds the GIA received for grading worldwide."  A rare fancy color diamond like J. Lo's is not so readily available or affordable, so we are offering beautiful color-enhanced diamonds.
Stuller has an accessible, affordable, and consistent supply of natural color-enhanced diamonds. You'll find a wide variety of in-stock melee and large diamonds ready-to-ship with rapid delivery. Plus, be sure to mark your calendars for in-stock essentials at deal pricing on Bench Jeweler Black Friday and Cyber Monday. We have everything you need for success this holiday season!
Product Manager, Diamonds
Olivia attended the University of Louisiana at Lafayette, graduated with a bachelor's degree in Public Relations, and is certified through GIA as an Applied Jewelry Professional as well as a Certified Sales Associate through the American Gem Society. Years of digging through her mom and grandmothers' jewelry boxes lead to a love of diamonds and gemstones which she leans on every day in her role at Stuller.