What tools do you guys use in your manufacturing? This is the #1 question we get asked. You want to know. And we're excited to share. At Stuller, we don't give out the "tried & tested" stamp (the one you've probably seen in our recent tools catalogs and on Stuller.com) that easily. Those products have to prove themselves first.

Our manufacturing experts work with a wide range of tools and equipment every day. They have strong opinions and suggestions – rightly so with more years of experience than we're able to tally. We rely heavily on their advice when choosing which new products get added to our line. These items are extensively tested in actual manufacturing scenarios both real-time and lab settings. We bang them up and push them to their limits daily. That way you know if they make the team, they've got to be good.

January is synonymous with repair. In fact, 25% of your total sales will be generated from repair jobs this month alone. So, in conjunction with our Repair campaign on Stuller.com, we will be showcasing a Stuller Tried & Tested series. See our associates use many of your favorite products, learn more about each, and why they've earned our seal of approval.
Polishing
I work daily with these rouges, and our people use them all day. The Luxor Buff and Polishing Kit (47-3221) consists of the four Luxor polishes: pink, white, yellow, and orange. These are ultra-high quality polishes. It also comes with a 4-inch TPB cotton buff and a 4-inch STV cotton buff.
For many years, jewelers have been using Gray Star. Well, Luxor Pink is the new Gray Star of the industry. It does the same job, but costs less.
Luxor Pink is used for preparation (high luster) and can be used on all metals, but is especially good for platinum.
Luxor White is used for fine polishing and finishing and can be used with steel, stainless steel, silver, grey gold, white gold, and platinum.
Luxor Yellow is used for finishing and can be used on all kinds of gold, steel, and stainless steel.
Luxor Orange is used for super finishing and can be used on precious metals and lacquers.
Why we love it: We love these rouges because they DO NOT contaminate. You can go from one rouge to another, that's right, you don't need to switch buffs anymore. In the past, when we would change to a different color rouge, we would also change the buff or it would pollute the piece, but with these rouges, it's no longer necessary.
Tips: For head polish, we've noticed it works better when we use a miniature white star shaped Astro brush (16-7054), or a miniature Geza brush (16-7051).
On our production floor, we also use Quatro clear view polish hoods (47-4753), which keep us from breathing harmful debris when we polish. They have side openings that allow lathe installation on either side.
Why we love it: It helps control dust and keeps the rouge from flying all over the place. Also, if we drop a piece, it's easy to find. We don't have to search everywhere to see where the piece fell.
Along with this polishing hood, we absolutely love the Baldor Polishing lathe (47-4023) and the Quatro Blue Dual Shaft Motor (47-3971). We use these to do final buffs and ring prepping.
Why we love them: They pretty much last forever (or at least that's what it seems like). We turn them on from the moment we get here at 8:00am and leave them running all day, every day. I've been here for 20 years, and we've never had to replace one. They don't stall and need very little maintenance.
Quatro Stand-Up Plishing Unit ½ HP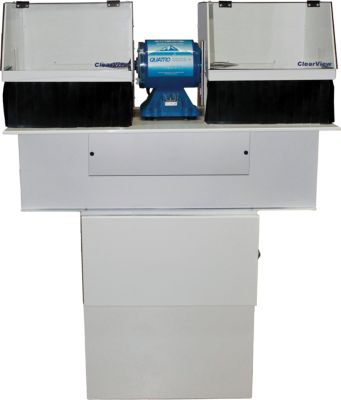 In our opinion, this is the most efficient polishing station on the market (47-4221). The true HEPA Filter that is uses ensures 99.97% efficiency on the capture of precious metal particles. It has two workstations with two separate collection bags, which allows for the separation of precious metals. The cool blue motor supplied is 1/2 hp. It has a middle drawer that we use for extra storage. It's quiet, but powerful. The clear view hoods help us work in a dust-free work environment.
Why we love it: It saves us money. It's an all-in-one unit that has the filters at the bottom, so it's ductless. It comes with polishing hoods on the side. We've actually switched one of them for a lap machine, because this is what works for us. We can move the unit whenever we want to because it's not ducted. The advantage of this is if you're at a mall or even a store, it'll probably cost you some money to hire someone to build a safe ducting system. With this machine, you don't need to worry about that because it doesn't have to be ducted to the outside. We use this stand up unit mainly for wedding bands.
Another cool tool we like using in our production, is the tapered spindle lapping machine (47-7000). It has a 45° angle design to provide optimum visibility. Also, the dual 3″ flanges allow the introduction of two-sided dust collection. The spindle is included and the motor is a ½ hp.
Why we love it: Polishing the inside of rings is piece of cake with this machine.
Tips: We recommend to recess it in the desk, so that it's at the same level as you. It's a matter of ergonomics and better posture, especially when you're doing this for long periods of time.
We typically use the air from the suction duct to cool off the ring, but we put a mesh screen on the side, so that the ring doesn't get sucked into the machine.
Shop Set up: We recommend the polishing equipment be set up in between your tumbling machine and your plating area, so that it's easy to go from one set to the other.
What are your favorite soldering tools? Do you have any soldering tips for us? We'd love to know! Leave your comments below. For more information on polishing, visit Benchjeweler.com and search "polishing".