Versatile, timeless, symbolic — explore the everlasting ethos of the most recognized style in bridal jewelry.
Debuting in the 19th century, the solitaire engagement ring has ridden industry waves with poise. Initially created to highlight one stone, simplistic prong settings encouraged maximum brilliance for any center with little need for added design — refined, and regal.  
A dominating force in the bridal jewelry industry, the style has proved to be both a statement and starting point for many. From sleek, simple designs to unique stone shapes and metals, the solitaire engagement ring can hold multitudes of style opportunities. Read on to discover options designed for any bride: classic or on-trend for subtle, stylish daily wear, 3C flexibility for sentimental statements, or die-struck pieces made for durability. 
Solitaire Engagement Rings: Classic vs. Trending
Much like the new chapter they embody, solitaire engagement rings shine as foundational pieces for couples. Through the test of time, the style has evolved to represent any bride-to-be yet remains outstanding and memorable.  
 
Explore selections of solitaires that ring in the familiar, lasting essence, and gracefully take it to the next level.
According to a survey done by The Knot, data showed that in 2021 alone, up to 35% of engagement rings were prong-set, deeming it the most popular style and solidifying its well-earned status. Core and streamlined elements such as four-prong settings and stunning metals allow the center stone to be the focus — the quintessential solitaire.  
While subtle solitaire mountings can still be fascinatingly inviting, a little extra charm slightly elevates the classic. Experiment with fancy shapes, prong count, and delicate settings for a piece that remains timeless.
Whether structural and defined or soft and enchanting, on-trend solitaire engagement ring styles add flair to the well-loved staple. Interesting shapes, modern settings, and textures elevate the traditional to a new level.  
Maintain aesthetic design with playful and contemporary additions to the faithful favorite like two-toned or split-shank styles. Hidden details encourage interesting visual appeal, while bezel and geometric settings offer center-enhancing options for the modern or vintage-inspired bride.
For full control in creating a customer's dream ring, personalized solutions allow step-by-step support to offer endless options. With flexible 3C engagement ring designs, couples can focus on the perfect style to meet their needs.  
Build Your Story With 3C Flexibility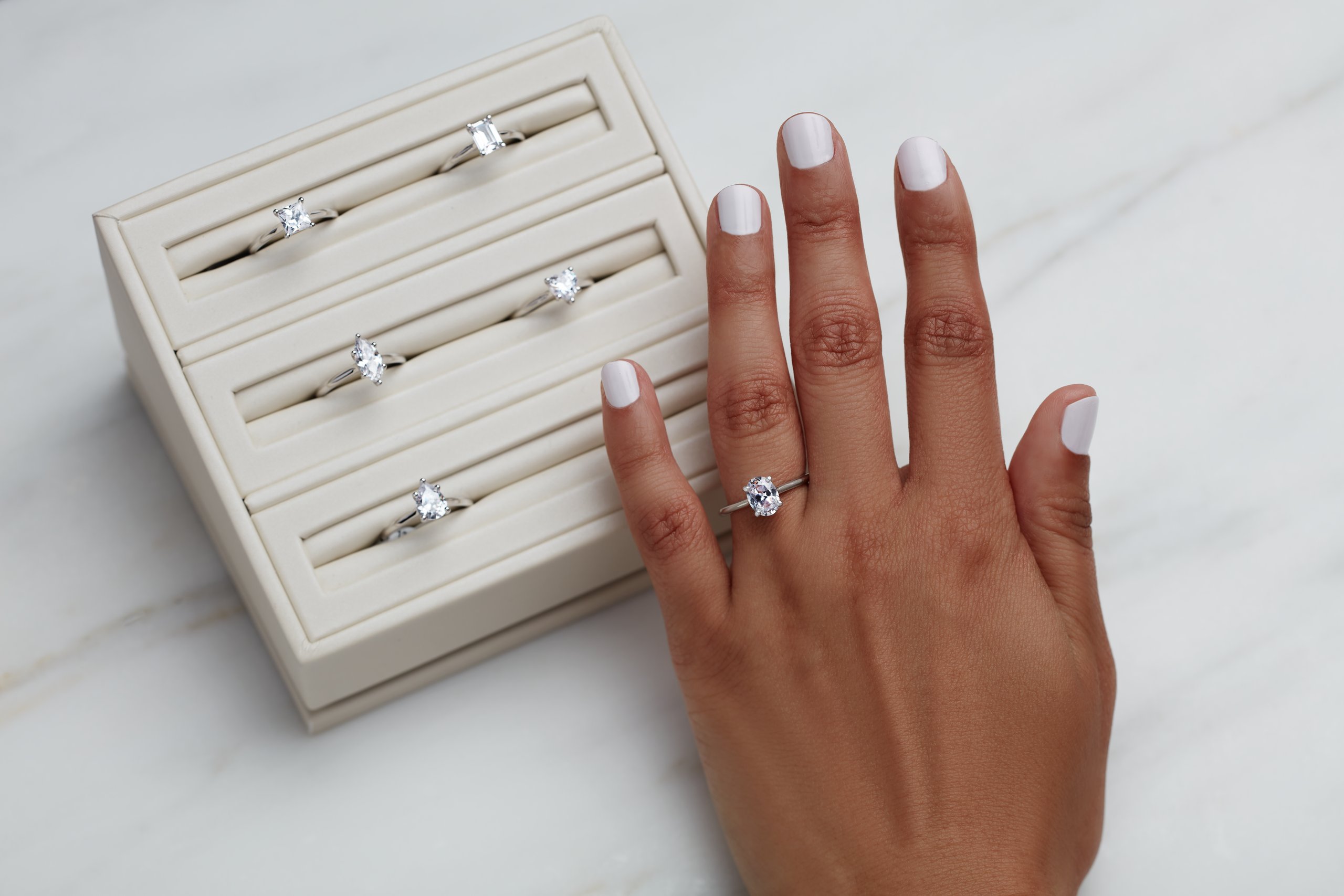 Found the right mounting, but have a few style preferences? Flexible 3C designs provide opportunities to build one-of-a-kind pieces with ease, while in-case bridal selling systems make customizable shopping easier than ever.  
Discover starting styles that allow for modifications like custom engraving, metal preference, and center stone size and type. Whether you need to adjust mountings to fit sentimental center stones or transform a selected style into something completely unique, our consistently updated assortment puts quality and selection at the forefront.   
As Stuller's comprehensive bridal selling solution, ever&ever® (651854) celebrates the appeal of easy, accessible customization for bridal selections. Present in-demand engagement ring styles in one curated collection with solitaire styles that embrace fashionable yet elegant design elements to accentuate center stones of various shapes and sizes. 
An Interactive Experience: Piece by Piece™
Perfect for in-store, prototype examples of what fits the customer best, selling systems provide alternative options for personal style and preference right at your fingertips.  
With more than 2,000 combinations for an impeccable shopping experience, the Piece by Piece™ Interactive Settings and Shanks Ring Builder (2000400) brings prototype design to the next level with magnetic components. Let customers explore the core selling system — with 36 magnetic peg heads and 24 compatible shanks — to build the perfect combination of shank design, stone shape and size, center stone orientation, and metal quality. Use expansion sets to build your system with exceptional variety, giving your customer the power to create exciting combinations.  
A mix and match approach can encourage confidence in bringing a vision to life. With endless opportunities in the world of personalized and customizable bridal jewelry, the perfect solitaire awaits!
Crafted With Quality: Die-Struck Engagement Rings
Beyond appearance, one of the most important aspects of creating a memorable sentiment is quality. Building a piece that will someday become an heirloom requires a process that will combine durability with security, which is why we offer this everlasting style in die-struck components.  
Die striking refers to an ancient process of forging which Stuller artisans have now advanced to create durable, made-to-last treasures. For porosity-free, highly polished, and secure selections, die-struck solitaire engagement rings ensure everlasting and reliable quality for milestone pieces that fit any personality and lifestyle.  
Known for their exceptional brilliance and simplicity, solitaire engagement rings are consistent favorites in the realm of bridal jewelry and maintain classic appeal despite the ebb and flow of the industry. At Stuller, we continue to offer a vast assortment of styles that are sure to help you find the perfect piece with endless opportunities for unique personalization or customization.
Claire is a graduate of the University of Louisiana at Lafayette with a degree in Journalism. Her advanced writing background combined with her love of staying on top of the latest trends helps her find the perfect content to bring to the jewelry industry.