Discover the many facets of the radiant Ruby — the gift, the talisman, and the treasure.
Relished through ancient treasury and entertainment alike, it is no surprise that Ruby has remained coveted in its entirety as one of the most significant stones in history. Perhaps most familiar to us now are classic symbols of Ruby in areas of pop culture, such as Dorothy's Ruby-red slippers or one of Elizabeth Taylor's many prized tokens of affection: her Ruby and diamond ring. 
More popularly, we might think (maybe even enviously) of those born in July claiming the Ruby birthstone. The deep, luscious red allures all and for great reason. A symbol of wisdom, passion, romance, strength, and life, this colored stone has kept a high reputation as far back as we have record of. 
Rightfully so, the stone is also sought as an anniversary gift, inspiring those who have reached their 15th and 40th year in marriage to celebrate a prosperous and passionate love. 
Rubies garner great responsibility having long been considered one of the most significant colored gemstones in history. Between symbolization and mesmerizing appeal, the gemstone has also been linked to recorded tales of protective properties. 
Desired for ages under the premise of promising wealth, success, and health to its holder, Rubies inarguably built an empire as a talismanic treasure. Used in battle, the gemstone also signified defense to warriors (and with hardness considered just below that of diamonds, durability might have been a factor). 
With Ruby holding status as the "king of precious stones," it might come as a surprise to be so closely related to Sapphire, a near-twin sibling.  
Both Ruby and Sapphire are made of corundum, a mineral species that, despite being colorless at source, can allow for many color opportunities dependent on trace materials. For Ruby, color and hue are intrinsic to the value of the prized gemstone.  
The element of surprise? Chromium. 
Commanding in its intensity, Ruby depends on chromium content to provide its range in color with bright, saturated red being the preferred hue for significant value. 
Looking at the Value of Ruby: Color
Color can be controversial in determining the true quality of the striking gemstone, with other corundum gems sneakily crossing into Sapphire territory. Additionally, other high-chromium gems have been known to be mistaken for Ruby on the presence of red alone, predating the importance of mineral makeup in gemstone classification (looking at you, Red Spinel).   
In terms of classifying Rubies, the process is highly dependent on the dominant hue, which is preferred as a fluorescent red. A finer Ruby is known to resemble a "pigeon's blood" shade with high chromium content and soft features.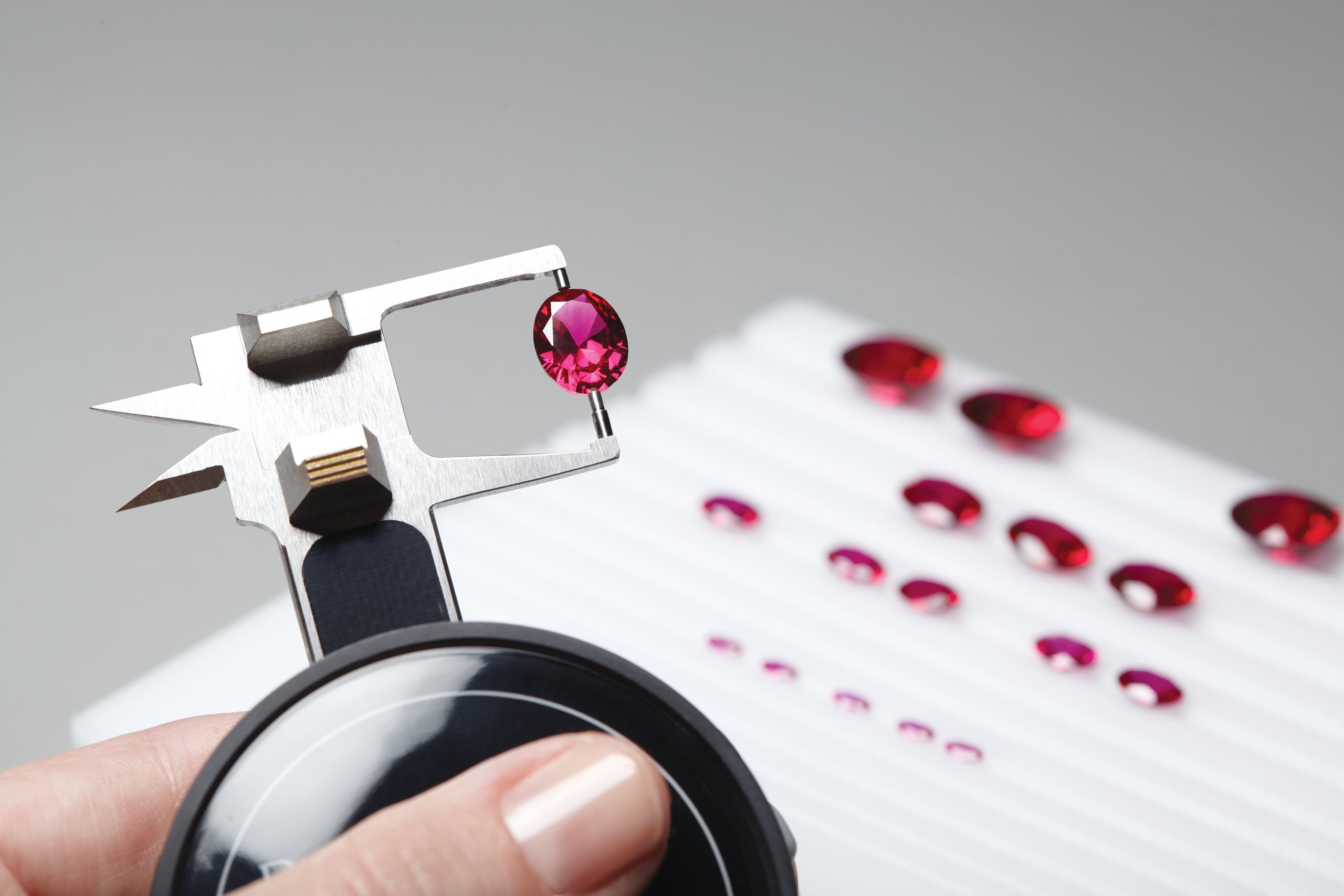 On the Grand Scale: Shapes and Sizes
Aside from color, it is no surprise to many that Ruby relies heavily on weight as the highest per-carat, corundum gemstone. So much so, that gem cutters have found innovative ways to conserve weight where possible without sacrificing differences in color return. Consequently, to preserve this technique, popular shapes have typically been oval and cushion, which also showcase Ruby's structure.  
Typically, fine-quality Rubies of more than one carat have rarely been found. However, as we continue to see a steady rise in unique and custom design, stones have now reached new heights with nearly endless possibilities in size, shape, and shade.
Explore natural Ruby in a variety of shapes within Stuller Gemstones™, featuring the following in calibrated sizing: round, square, oval, marquise, pear, emerald, straight and tapered baguette, trillion, and heart. Natural Ruby is a wonderful way to enhance any piece, and in smaller sizes, can allow for many windows of opportunity to customize something unique, whether it be a romantic gift or birthstone jewelry with added flair.  
 
In a more modern approach, our selection also offers lab-grown Rubies in newer shapes such as kite, shield, and hexagon, giving you space to offer even more options at attractive pricing – without sacrificing the gemstone's enchanting appeal.  
Commonly used as lavish crown jewels and treasured as stones alone, Rubies have consistently reigned as unique and incredibly valuable gifts, making them a wonderful gemstone to use in custom milestone pieces. With Stuller's Notable Gems®, our assortment of hand-selected gemstones is central to helping you find the perfect Ruby. 
Browse classic shapes or venture to showcase and reimagine the radiant, red gemstone for all occasions: a Toi-et-Moi style for best friends, the center stone for modern engagement rings, such as the latest Art Deco revival, or additions to a future family heirloom.  
Finding the perfect Ruby should be easy, transparent, and uniquely fit your needs. Our vast inventory of hand-selected Ruby gemstones offers up to nine shapes, with a range in size and extensive grading. In stock and ready to ship, you can review and select your stone with confidence.  
Classic, fascinating, and royal, the importance of Ruby has yet to shift in popularity, keeping it ranked as one of the most ideal symbols of love, passion, and strength.  
Claire is a graduate of the University of Louisiana at Lafayette with a degree in Journalism. Her advanced writing background combined with her love of staying on top of the latest trends helps her find the perfect content to bring to the jewelry industry.