Stuller redesigns heirloom masters from the past into today's treasures.
I'm a fine jewelry product manager for Stuller and absolutely love going into the master vault for inspiration. Behind its thick steel doors, a vast treasure trove of master jewelry designs await rediscovery. These original fine jewelry pieces are tucked away in boxes on shelves, from the floor to the ceiling on all sides. It's an amazing library resource with over 50 years of history.
Our vault is great for inspiration because when things come back in fashion such as the Victorian and Art Deco styles, we can reinvent our old master designs, brush the dust off, and make them more appealing to the audience now in the marketplace.
The key is to look past the surface of the old piece and look at what it could be. We may take a ring and reimagine the whole design, or we might just take bits and pieces, such as the texture, and incorporate that into something new.
A Vintage/Art Deco-Inspired Perfect Pair
The following images show the stages of transformation for a master design in the vault to the perfect new pair.
Click the images below to shop the reimagined ring and pendant.
This vintage-inspired accented marquise ring and pendant were inspired by the vault and put into our 3C Collection for two reasons:
The Vintage/Art Deco-inspired style is a very popular look within 3C.
To me this piece looks like something that could have been passed down from your grandmother and then passed on for generations to come. The flexibility that is available in 3C allows a customer to put an heirloom stone or any stone of their choosing into these gorgeous mountings. 
We work closely with Product Design & Development to transform old masters. The pieces are scanned first, then the CAD design is redone to enhance the piece and bring it up to the quality standards that we do today. The development process is: scan it, tech it and 3D print a new model, then create a master/mold. 
This newly designed perfect pair are featured on page 18 in Stuller's 2022 Valentine's Day Gift Guide.
There's a lot more "vault" styles in development but these are the ones currently available on our website. What's old is new again! 
Flexible 3C Jewelry Designs: Choose, Change, Create
You can redesign your customers' family heirlooms with any of our flexible 3C designs. 3C allows you to change your stone shape, pick your metal quality and color, and put in any gemstone of your choosing – a new or heirloom stone with sentimental value to it.
Stuller's 3C collection includes rings, pendants, engagement rings, anniversary bands, eternity bands,  wedding bands, and our full ever&ever® Collection.
Modify a 3C Style: The Possibilities are Endless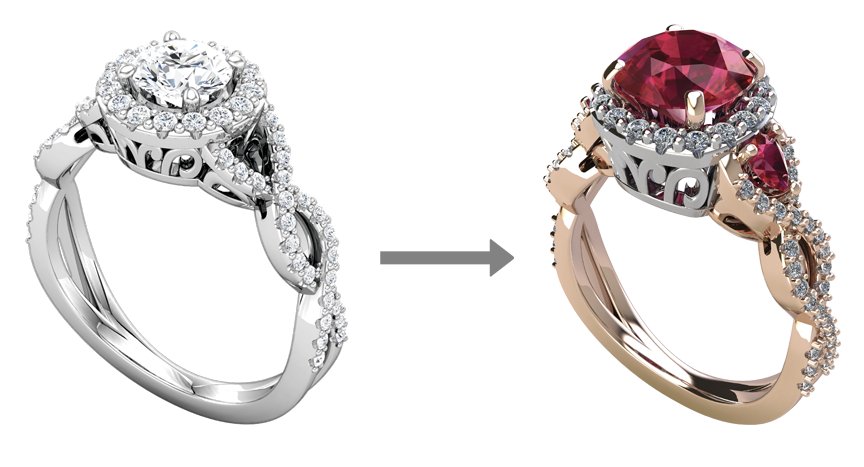 Former Product Manager, Fine Jewelry