Hot cocoa in hand, we're highlighting the season's most iconic couple with a glimpse into their potential love story, and their jewelry box.
It's here: that special week just before Christmas Eve and Christmas Day where shoppers are scrambling, parents are checking their hiding spaces, and we all practically hear Mariah Carey's "All I Want for Christmas Is You" in our sleep — and at Stuller, we're full speed ahead on making dreams come true.
Whether you've been with us from the beginning or started your journey in 2022, you've likely gathered that we're pretty serious about the holidays. Every order gets processed, packed, and shipped with care, and all associates take on an "all-hands-on-deck" approach to make sure that we serve you as quickly and efficiently as possible. In a way, no one really gets this time of year like Stuller… except for Mr. and Mrs. Claus, of course.
In true jewelry enthusiast fashion, we've ditched dreaming of sugar plums for rocking around the tree with ideas on what Mr. and Mrs. Claus would wear to commemorate the love they have shared over hundreds of years as well as other staple pieces in their collection. Would Mrs. Claus have a ring stack? Does she have a list, and is Mr. Claus checking it twice with their in-house jeweler elf? So many questions that we're eager to explore.
Grab something warm, set aside a treat, and read on to see what we think the dynamic duo would wear.
Located at the North Pole in their cozy cottage of mystery, the two lovebirds are known across the globe as major symbols of the season, making spirits bright with their family of reindeer and elves, and a heaping dash of magic — but how did they meet? Well, with intense research and a lifetime supply of Dum Dums, we found… not much.
Coming up on 1,800 years of history and lore, there are nearly infinite stories of the jolly man in the red suit, and his spouse, respectively. Some say the two met when they were young, others say Mrs. Claus only entered the scene within modern-day representations (if we count the last 173 years or so). Not much is said about her, however, other than the adopted traits of being generous, kind, helpful, traditionally classy, and feminine.
Yet, despite Mrs. Claus always being a mysterious portion of the tale, a strong, eternal love always seems to find them in every timeline, which is something that any Grinch could appreciate. So, whether you'd like to imagine them as one-and-only loves or meeting at a Kris Kringle Mingle later in their elder lives, we've still got one thing on our minds — her jewelry.
Dreaming of a White Gold Christmas
When we imagine the bridal and fine jewelry pieces of the loving, hard-working spouse of Father Christmas, there were a few details in mind that felt non-negotiable: 14K White Gold, accented, and classic.
Some sources claim their marriage to be over 200 years and still going strong, so we also see her core pieces having vintage-inspired, and of course snowflake-style, details.
In the early stages of their relationship, Mr. Claus needed an engagement ring that was sure to dazzle his soon-to-be bride — and with a halo-style, claw-prong setting, and vibrant gemstone center, she couldn't say no.
As their love continued to grow stronger with each Christmas, we envision him gifting her with a proper upgrade to her first ring to honor their commitment to each other. This style displays all the delicate and unique features of a snowflake, just like Mrs. Claus.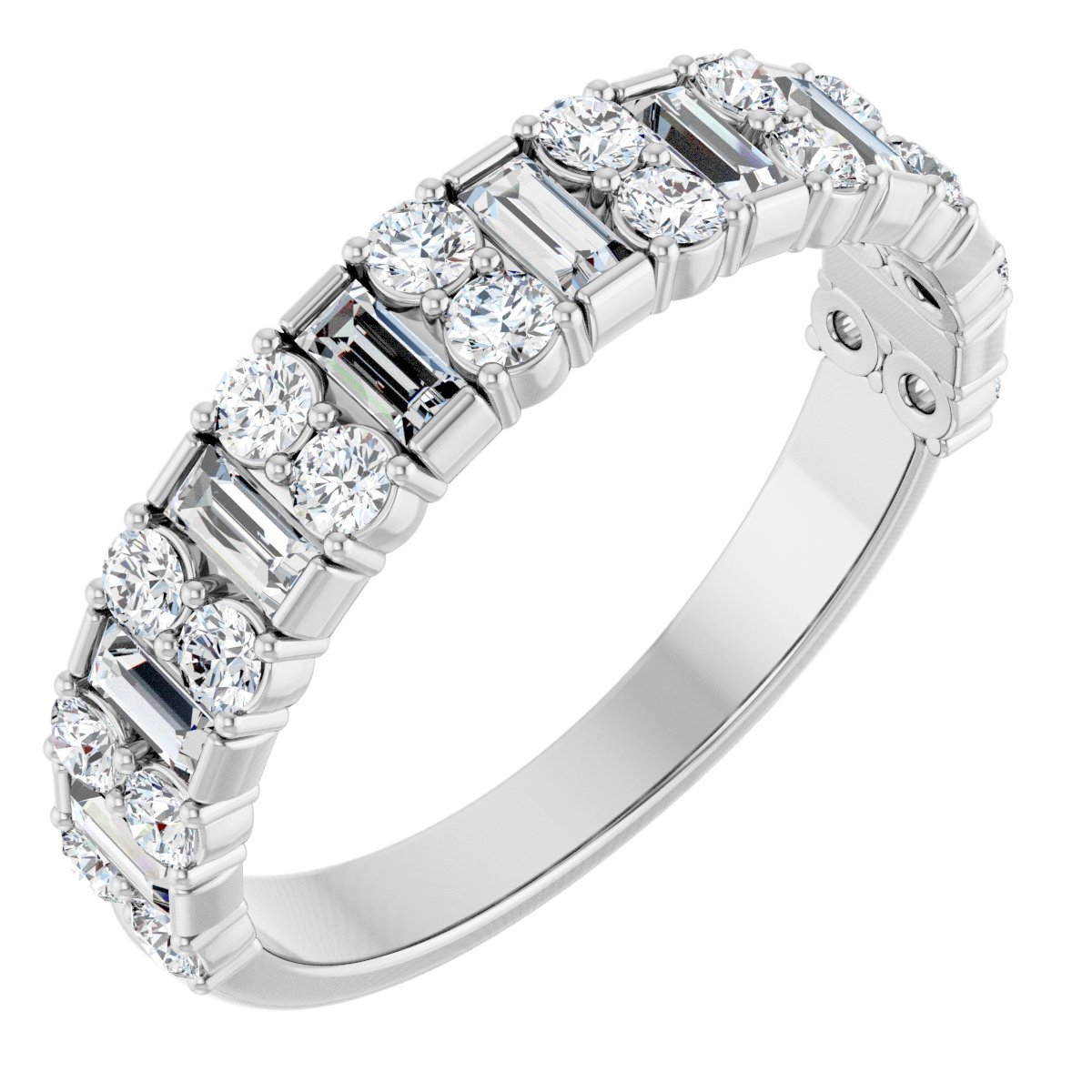 Adding a bit more "bling" to her stack, this anniversary band pairs perfectly with her wedding ring style, keeping the modern, angular detail of a straight baguette paired with classic, round shape diamonds.
Packaged with Care
If anyone understands the power of an unboxing experience, it's Mr. Claus. Made with love, Santa would have his elves build a ring box that only opens with Christmas magic — let Stuller make it easy with something similar like a ring box from our Walnut Wood Collection: no minimum, no problem.
We believe that her choices would be just as beautiful as the day she received them, with enough versatility to pair them alongside staple pieces or wear them alone when switching between Christmas parties and helping the elves. In fact, history seems to sideline just how hardworking Mrs. Claus really is (Google "Mrs. Claus erasure," trust us).
That being said, we'd love to think she partakes in a few self-purchases here and there to celebrate her unique story. After all, even the First Lady of the North Pole deserves a few essentials in her collection. Here are our Mrs. Claus-inspired picks:
How can we offer a Claus-themed article without talking about the legend himself? Hard at work, Mr. Claus spends most of his time planning, prepping, and building to get ready for the busiest night of the year — there are reindeer to train (making sure Rudoph's nose is fully-charged is a job of its own), toys to carefully package, and a sleigh to keep in tip-top shape for delivery.
With a list like that and a tight schedule, he'll need pieces that are durable, and practical, but, per the advice of Mrs. Claus, not lacking in personal style. Let's start off with his central piece: his wedding band.
This accented band is sure to last for generations and chimney plunges to come. Set in Platinum, each stone represents a pattern like the night sky, representing the way that Santa counts the stars on his way home to Mrs. Claus.
A Little Extra Under the Tree
What does Mrs. Claus give the best gift-giver in the world? Even she knows, you simply can't go wrong with jewelry.
Just like Mrs. Claus' statement ring, she thought Mr. Claus should have an extra something up his sleeve, too. Staying with Platinum as his trusted choice for his busy lifestyle, this bezel-set ring adds a nice, bold touch to any event he might attend. A Ruby center won't clash with his red coat but will add just the right amount of color (and matches with her own ring).
As a man on the move, though, his collection needs to stay light and streamlined: keepsakes and essentials that are light enough for a classy, gentleman's touch. A wider watch band helps him to dress up an everyday accessory in a versatile shade that matches his belt and boots — Santa can never be late, not even fashionably. A gift from his reindeer and Mrs. Claus, he might also wear a St. Nicholas medal in 14K Yellow Gold, paired with a standard wheat-style chain to remind him of his purpose.
While the mystery of the iconic Christmas duo lives on, one thing is for certain: they'd know just how to express their love the best way we can imagine – with timeless pieces sure to honor their legacy for decades to come. After all, believing in magic is similar to believing in a once-in-a-lifetime love.
We hope you've enjoyed gearing up for the holiday weekend with us here at Stuller, and we wish you a joyful finish to the season as we continue to keep you prepared.
Claire is a graduate of the University of Louisiana at Lafayette with a degree in Journalism. Her advanced writing background combined with her love of staying on top of the latest trends helps her find the perfect content to bring to the jewelry industry.