Feelings of hope and innovation are represented in a new color as the world looks for a fresh start.
Welcome to a new year full of creative possibilities! Last month, we eagerly awaited an announcement from the Pantone® Color Institute detailing this year's Color of the Year. Pantone's Color of the Year involves a broad range of experts searching the world for color influences. The colors that Pantone selects influence development and purchasing decisions made in several industries, including fashion, furnishings, and, of course, jewelry.
At Stuller, we annually look to Pantone's Color of the Year for inspiration. With our vast selection of colorful and vibrant gemstones, knowing options and color pairings can make crafting your next custom piece a breeze.
2022 Color of the Year: Very Peri
This year's Color of the Year is a new color known as Very Peri — a color whose "courageous presence encourages personal inventiveness and creativity," says the Pantone Color Institute. This new shade of purple was created with the faithfulness and consistency of blue and the energy and excitement of red. The result was a hue that conveys innovation and a fresh start.
Coming from a year of unprecedented change throughout the world, Pantone wanted to provide a color that reflected the optimism and hope for the future.
"Ultimately, this new shade — and even the act of creating it — is meant to represent what many are hoping for in 2022: a fresh start for a world that knows that old systems and habits can no longer stand up to the challenges of today, let alone the days to come," says Pantone.
Visit our website to see everything a jeweler needs to know about the Color of the Year.
Within this cool and soft tone are several different gemstones that are perfect for custom pieces. Gemstones that exhibit soft or vibrant blues, lilac, lavender, and purples give off the same excitement and refreshed feelings many are looking for in this new year.
Our top options in gemstones fitting Very Peri include Tanzanite, faceted and cabochon Fancy Sapphire, faceted and cabochon Moonstone, Chalcedony, Iolite, Lavender Cubic Zirconium, and Blue Moissanite.
Not only do you want to know your options for gemstones that shine with this year's Color of the Year, but you will also want to know what complementary colors you should include. This opens the door to an entire rainbow of opportunities! Check out Pantone's curated color palettes and our gemstone pairing inspiration below.
This palette combines a balance of warm and cool tones to provide a feeling of liveliness and visual vibration. Complementary gemstones include Rose Quartz, Morganite, Sapphire, Garnet, Chrysoberyl, Tanzanite, Spinel, and Amethyst.​

This palette provides a holistic and harmonious blend of nature-infused shades. Complementary gemstones include Sapphire, Moissanite, Chrysoprase, Emerald, Tsavorite Garnet, Peridot, Nephrite Jade, Tourmaline, Garnet, Chrysoberyl, Amethyst, Spinel, Sapphire, Tanzanite, Topaz, and Aquamarine.

This palette allows the dynamic presence of Very Peri to shine surrounded by classic neutrals. Complementary gemstones include Spinel; Moissanite; Onyx; Tourmalinated, Speckled, and Smoky Quartz; Opal; Zircon; Moonstone; Topaz; Sapphire; Cubic Zirconium; and Tanzanite.​

This palette brings forth the carefree confidence and joyful attitude of Very Peri with experimental pairings of joy and whimsy. Complementary gemstones include Citrine; Garnet; Zircon; Tanzanite; Smoky, Rutilated, and Lemon Quartz; Brown, Pink, Yellow, Umbra, and Padparadscha Sapphire; Ruby; Spinel; Tourmaline; Ruby; Moissanite, Rainbow Moonstone, and Chalcedony.

Your Resource for Colored Stones
Being able to find a gemstone that matches just the right color you are looking for is vital to creating a cohesive custom piece and we are happy to provide you with the resources you need.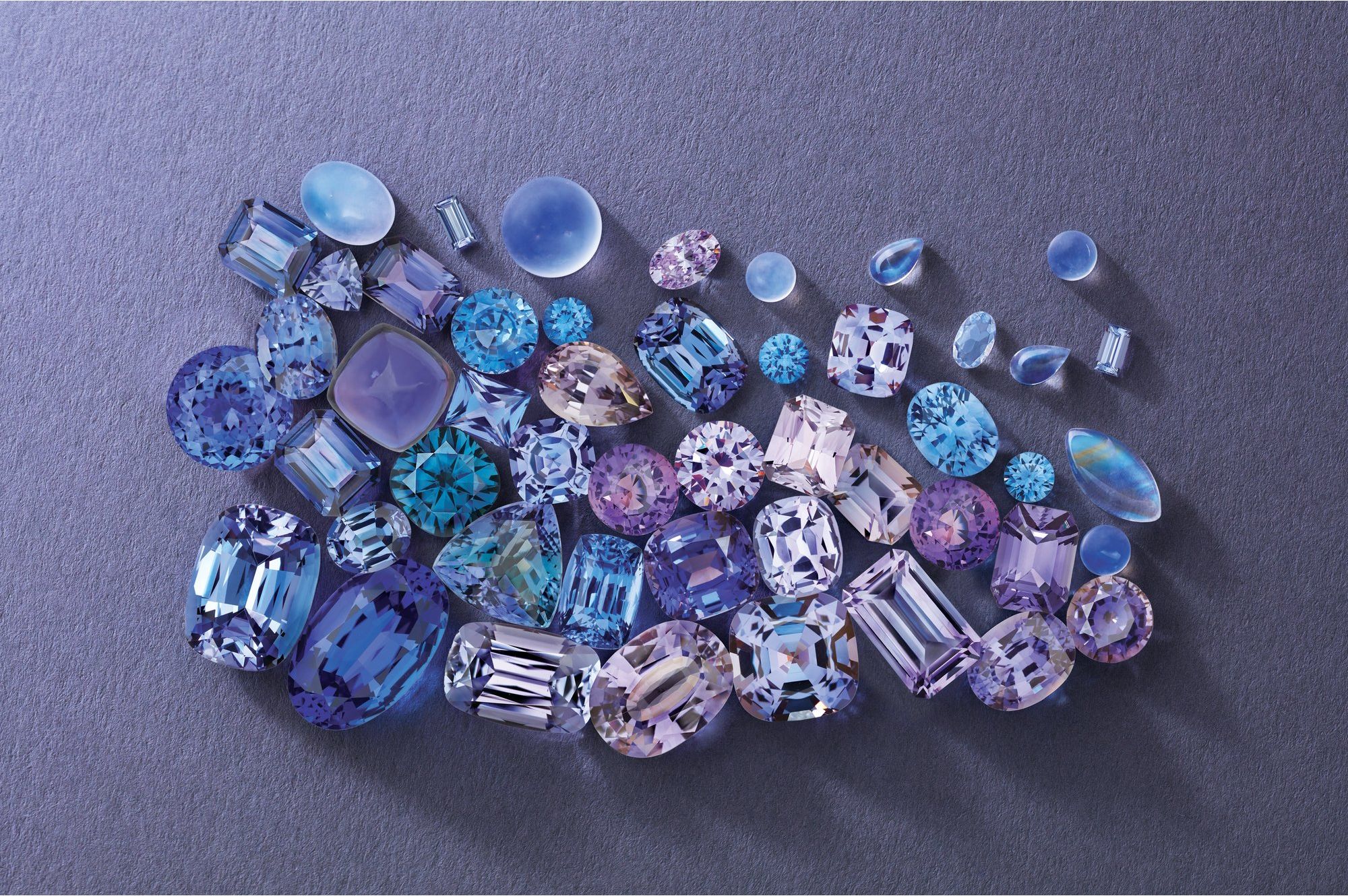 Our Shop by Color experience on Stuller.com allows you to navigate our entire loose gemstone collection, including all our calibrated cuts, shapes, and sizes as well as our Notable Gems® collection. Find the gemstones you need in any color you could desire at Stuller.com/ShopByColor.
Looking to create the perfect color palette with matching shades? Use Stuller's Matching Services for quick and reliable solutions as you search for just the right colored gemstones. Call us at 800-877-7777 ext. 5 to get started.
Special Order Gemstone Service
Even with over a million stones in our expansive inventory, you might still be searching for something else. Our experts are at your service. We can help you source that special gemstone, have it shipped to our headquarters, and give you firsthand information about any unique optical properties. From Thailand to Brazil to Madagascar and many places in between, rely on our vast network of global sources to find just what you need. Learn more at Stuller.com/SpecialOrder.
Former Director of Gemstones