As you might expect, I am passionate about fashion. I live it, breath it, and of course, I wear it. I have the best job in the world because I get to share my obsession and help people with their business at the same time. There are so many amazing stories and collections we are adding to our line that I want to tell you more about one of my favorites.
In the latest edition of our What's New at Stuller Fall 2015 brochure, we presented "Gold Rush," featuring new, on-trend styles in yellow gold. This section features a variety of styles that would appeal to the fashion-forward consumer. The design elements of these knots, geometric shapes, and linear designs are best highlighted in yellow gold. With styles available with or without diamond accents, they have great price points to meet anyone's budget. Without much ado, here are my all-time loves:
To Infinity and Beyond

My favorite knot style is 51511. This piece has a double infinity loop with negative space and looks amazing as a middle finger accent ring. We specifically designed the lines of the piece to stay petite and to not only be delicate but affordable. Pair this ring with a taupe mani, and you have a winning combination for the fall.
Stack 'Em High
If you like to stack and layer your rings, you will love 651904. This double row diamond fashion ring with the little crisscross knot accents is just adorable. It gives the illusion of two rings in one while still allowing you room to stack and layer more rings. And, of course, there is nothing wrong with wearing it alone, but I stack it with a simple rope ring like 255 and a hammered ring like 51376. The different textures and design elements make for a fun look.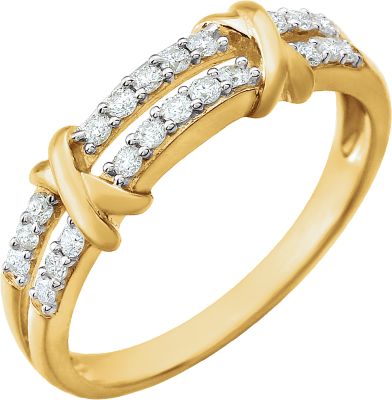 Classically Trained
Classics are just that because they never go out of style. Who doesn't love a classic? We recently added three sizes of Italian horn pendants (86276) and matching earrings (86260) to our line for the fall. We put our own touch by making it slim and sleek. We also have another classic style with a Stuller twist. The crescent necklace (86255) and earrings (86259) are so irresistible that every woman on my team has purchased one for herself. I see this piece being a great in-case item for last-minute shoppers. Both of these beautiful styles offer an affordable addition to any jewelry box.
Feel the Power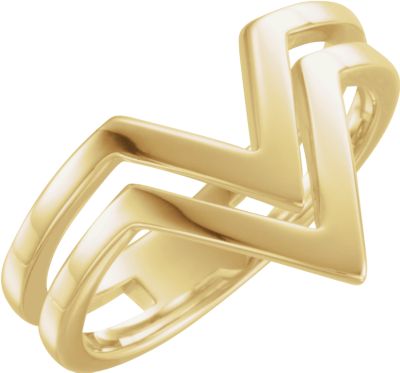 I can't explain how obsessed I am with 51547. This double "V" design ring is reminiscent of Wonder Woman's emblem and will make any woman feel equally powerful and strong. The sharp lines and negative space make it an instant fashion win. This ring has the big look that we love without being heavy or bulky. I have worn this ring with a navy and peach summer dress and received compliments galore. I love the versatility and fun this ring provides to my wardrobe.
Up Close and Personal
The other piece I couldn't live without is 651885 in the 1/4 CTW. This little diamond baguette bar is too cute for words. And since baguettes are big right now, you can't go with the 1/2 CTW size or the matching earrings (651886). Personally, I layer these styles to make my outfit pop. The necklace has an adjustable length so it can be the top, middle, or bottom layer depending on what I'm wearing. Great layering options include geometric styles, but you can use virtually any favorite piece in your personal collection. I love to wear this piece with my personalized bar necklace (85778) that is engraved with "Much Love, Mere." The laser engraved message was a signature on a card my grandmother wrote to me. I love wearing it as often as I can to keep her close to my heart. And even more, I love layering it with a pop of diamond to complete the bling look!
With all of these great yellow gold options now available, it's no wonder that we are having Gold Rush fever 2015. How do you gold rush? What are some of your favorite pieces this fall? Tell us in the comments below and give us your feedback on our favorite piece. We love hearing from you!