Try these creative ways to use family mountings as the perfect personalized piece.
Within the world of fine jewelry, we know that family jewelry traditionally has significance between a parent and child or some other family connection, in which birthstones or engravings are chosen to represent family members. However, family mountings offer a lot more possibility beyond their conventional purpose when it comes to creating personalized jewelry.
Family jewelry provides timeless and classic styles that are extremely versatile as you are able to set the mountings with any compatible stone of your choosing.  Not only are they the perfect gift for any mother, they also are beautiful silhouettes that shine on anyone! Here are five different ways traditional family mountings can be adapted to make meaningful personalized pieces.
Birthstones are great sources of symbolism in family jewelry. For example, you can add the birthstones of loved ones to pieces that keep them close to your heart. But what if you took those adaptable family pieces and placed gemstones to fit any story you wanted to tell? Bursts of vibrance and rainbows of color are definitely trending, and traditional family mountings make it easy for these classic pieces to be used for any fashion-forward look. Create a palette of colors with gemstones to fit an on-trend pair of huggies (88075) or bracelet (BRC877).
Necklaces with names, such as "Gigi," "Nana," "Granny," and "Mama" are often gifted to a loved one so they can cherish the name they were given through the birth of a child. However, these pieces are also a great way of personally honoring those loved ones. For example, rather than gifting a petite mama script necklace (87395) to a mother, encourage your customers to purchase one for themselves so they can always think of their "mama" as they go throughout their day.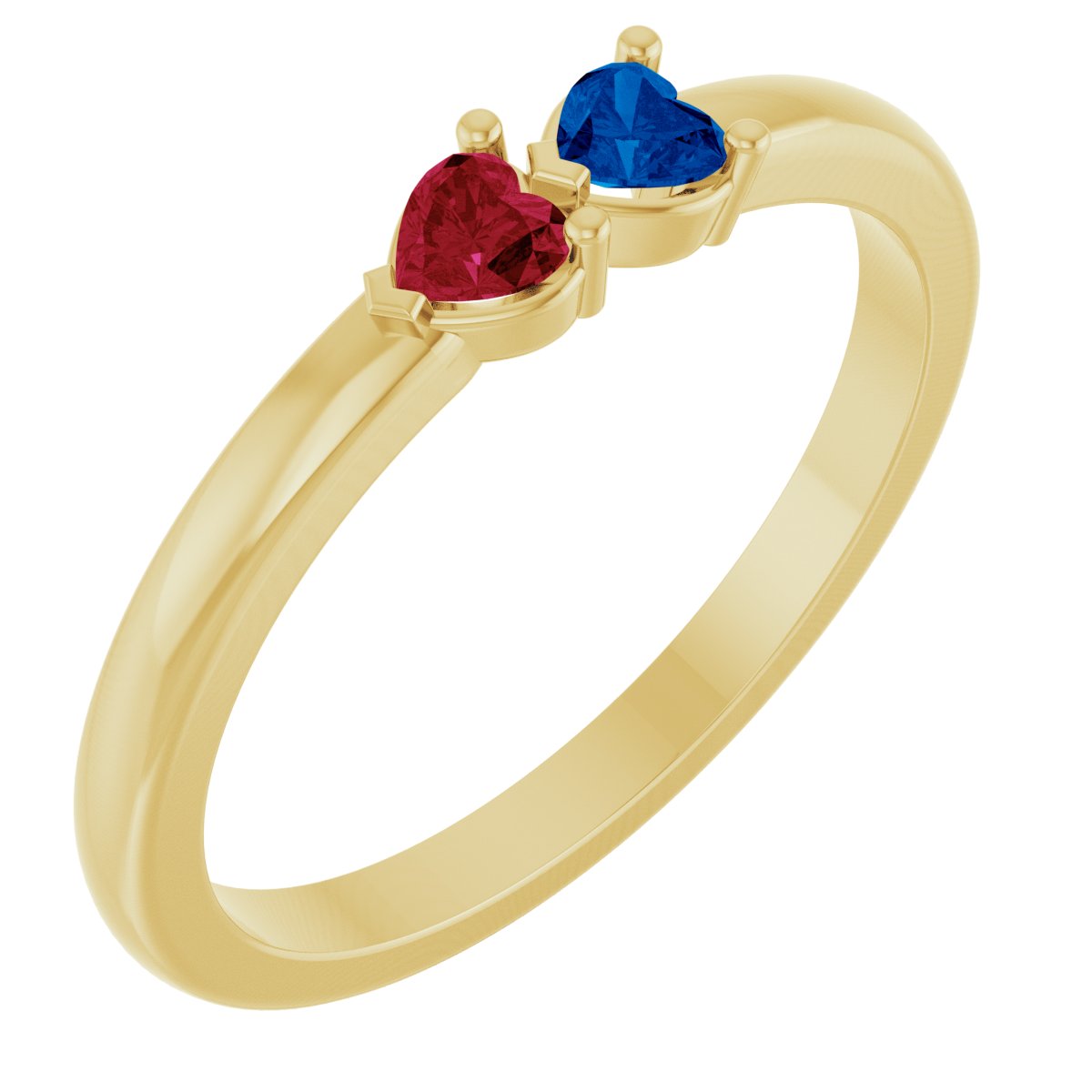 A two-stone family ring set with two birthstones could be bought for a mother to represent her two children. However, these flexible styles also make a great You and Me ring — perhaps a matching pair for best friends or even a couple. If worn on the right hand, set the pair's birthstones in a way that keeps the one the wearer loves closest to their heart. A 2-stone heart family ring mounting (72317) is an excellent option for this perfect pairing.
Acrostic jewelry uses the first letters of a series of gemstones to spell a word. While notably popular during the Victorian Era, acrostic jewelry is starting to make a reappearance with the rise in personalized jewelry. A special piece of jewelry that carries personal significance and meaning is something anyone would love to own.
So how does it work? Using a mounting that allows for multiple gemstones, set the stones in an order where the first letters of the stones spell out a word. For example, start with a 4 stone growing bouquet family mounting (88124) and set it with a Diamond, Emerald, Amethyst, and Ruby. The stones spell the word "DEAR" and create a beautiful piece that reminds the wearer of the one they hold dear.

*Note: image does not feature suggested gemstones*
5. Sentimental Engravings
Engravable family mountings often combine birthstones and engraved dates to represent the birth of a child. However, these pieces are also fantastic gifts for the love of their life.
Take a 1-stone family engravable heart ring mounting (72310) and set it with a blue gemstone, such as Aquamarine or Zircon. Then engrave a wedding date on the inside of the shank. Now you have that perfect "something blue" to gift a bride on her wedding day — something she is sure to remember and cherish for the rest of her life.
You can count on personalized jewelry being a trend that is here to stay. Take advantage of every resource so you can offer unique solutions for your customers as they search for the perfect piece they'll truly love.
Former Product Manager, Fine Jewelry