From engagement rings to wedding bands, search for solutions based on what your customers need.
When it comes to shopping for engagement rings and wedding bands, today's consumers want variety, customization, and choice. However, they also want to be guided to the most popular and trending styles. Keeping the amount of jewelry in your case to accommodate those needs can be a costly and risky investment.
That's why Stuller's in-case selling solutions are a real game-changer. Each of our solutions are pre-merchandised by our team and filled with product that is backed by data as pieces that sell. Additionally, whether through a prototype or live jewelry style solution, the overall value of your in-case inventory is reduced, which reduces both security and investment risk. Finally, any of the styles featured in one of our selling solutions are available for a swift delivery directly to your store so you can provide your customer with the piece that caught their eye.
There is an in-case bridal selling solution out there for every need. Let's find yours!
Solutions for One-of-a-Kind Engagement Rings
One of the most prevalent consumer trends today is customization. Within the bridal industry, that means consumers are wanting a completely unique ring — one made just for them that no one else has. Even more than customization is that they want an experience catered to them and to be involved in the process.
Two of our most popular selling solutions for a customizable engagement ring shopping experience are ever&ever® and Piece by Piece™.
ever&ever® is a complete in-case bridal program featuring high-quality, customizable prototype rings — each a flexible 3C design. These engagement rings within the selling solution represent best-selling styles that sell again and again. However, each can also be made into a unique piece. Choose the center stone type, shape, and size as well as the metal quality and color for limitless possibilities.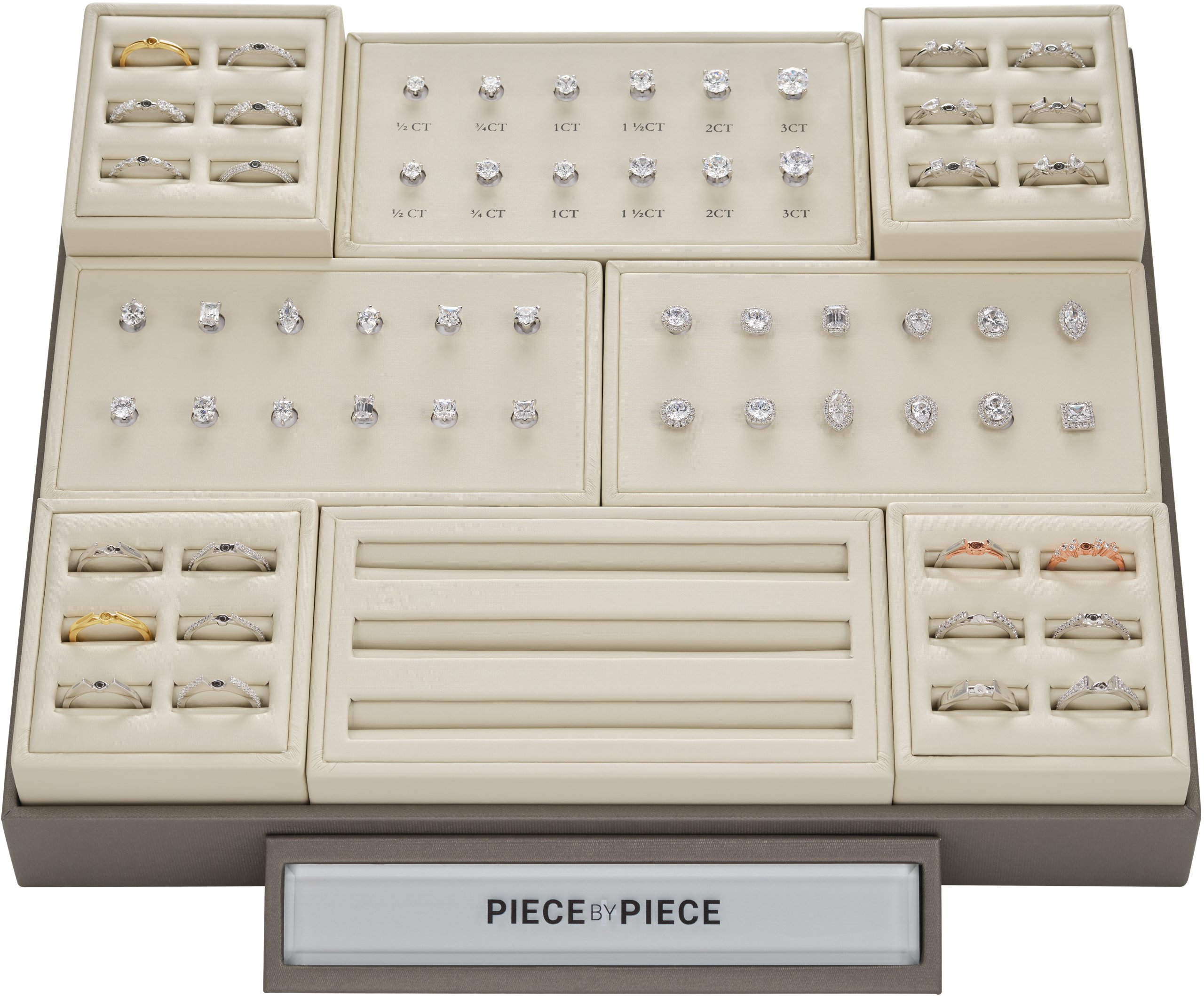 Piece by Piece is Stuller's interactive settings and shanks builder. If you're looking to get your customer involved in the customization process, this is the selling solution for you. Craft the perfect solitaire ring with magnetic settings and shanks that combine to offer more than 2,000 style possibilities. Your customers will have fun as they create their own perfect ring.
Solutions for Keeping Up With the Trends
Pinterest, Instagram, and bridal magazines are buzzing with the hottest engagement ring trends. You'll be hard pressed to find a bride that doesn't have her dream ring saved on her phone. In truth, as a jewelry business owner, it's a lot to keep up with.
That's why we do the work for you and present a new edition to our Designer Bridal Collection every year, so you always have access to what's chic, stunning, and showstopping. Each year's set of selling solutions provides you with an easy way to show off these beautiful eye-catching styles with fresh additions already in the works for the upcoming year.
Solutions for Creating Unique Bridal Stacks
The modern woman's bridal stack says a lot about her. It's an extension of her personality and her story. Each band matched with an engagement ring can mark special occasions, celebrate momentous milestones, or simply reflect a curated style. With the Stackable Anniversary Band Selling System and the Bridal Enhancer Selling Systems, helping each customer build the bridal stack of their dreams is easy.
The Stackable Anniversary Band Selling System provides you with the ideal assortment of classic and on-trend accented styles. As flexible 3C designs, each ring gives your customer the ability to customize the band to fit their needs.
Bridal enhancers, such as contour bands and ring guards, have continued to grow in popularity and are the perfect addition to any bride's wedding stack. The Bridal Enhancer Selling Systems feature both classic and on-trend contour band and ring guard styles. Start with an engagement ring and create a bridal ring stack that's never been seen before.
Solutions for Eye-Catching Wedding Bands
A couple's wedding bands are special. They symbolize the start of the next chapter in a couple's life. A way to truly leave an impression on your customers is to provide them with wedding bands that stand the test of time — a true reflection of their love.
The Classic Wedding Band Selling System represents one of the most comprehensive classic wedding band assortments in the industry. Visually show your customers examples of profiles, special finishes, widths, and details using the Band Builder on Stuller.com. Then, your customer's ring is manufactured to order with a speedy delivery.
The Eternity and Anniversary Band Selling Systems feature our classic assortment of best-selling flexible 3C bands — a must-have for every store. Each featured style in both selling systems is available in an extensive offering of finger and stone sizes, so your customers can have their desired look for the perfect wedding band.
Stuller: Your Bridal Business Partner
We are here to build and support your bridal business. With every solitaire engagement ring and every specially finished wedding band, we exist to help you bring every customer's dream ring to life. Start your journey today on Stuller.com.
Angela holds a degree in Textiles & Apparel Merchandising from Louisiana State University. Her experience working in the wholesale fashion industry in Los Angeles aids her in translating trends and creating lasting engagement ring designs meant to be cherished for a lifetime.