This holiday season, incorporate and curate your selection of eye-catching packaging to create a memorable shopping experience.
The time has come — cooler temperatures are here, the crowds are out, and the holiday selling season is in full swing!
Consumer statistics have projected retail sales to increase up to 6% from last year, and with more foot traffic, it's important to keep your business prepared for all potential customers.
Additionally, customers are looking for inviting experiences to keep them in the holiday spirit as they shop. By incorporating packaging as a key element, you can easily freshen up your case display using inventory that inspires customers in every gift or self-purchase. With every finishing touch, a refreshed case can make for a lasting impression beyond the sale (and create repeat customers).
Not sure where to begin? Stuller is here to help, step by step — read on for expert tips and inspiration to help you think outside of the (ring) box when merchandising your product and cases this season.
With increased foot traffic, the holiday season is an essential and advantageous time to incorporate textures, colors, and prints. For an unforgettable, in-person shopping experience, use jewelry packaging that evokes the spirit of the holidays, and opt for materials that celebrate the thrill of gift-giving.
Velvet or soft-suede packaging styles are perfect for holiday proposals in both traditional and modern shapes and make great foundations to show off best-selling engagement ring styles. To offer warmth and elegance, offer materials like textured wood or leather, perfect for any recipient.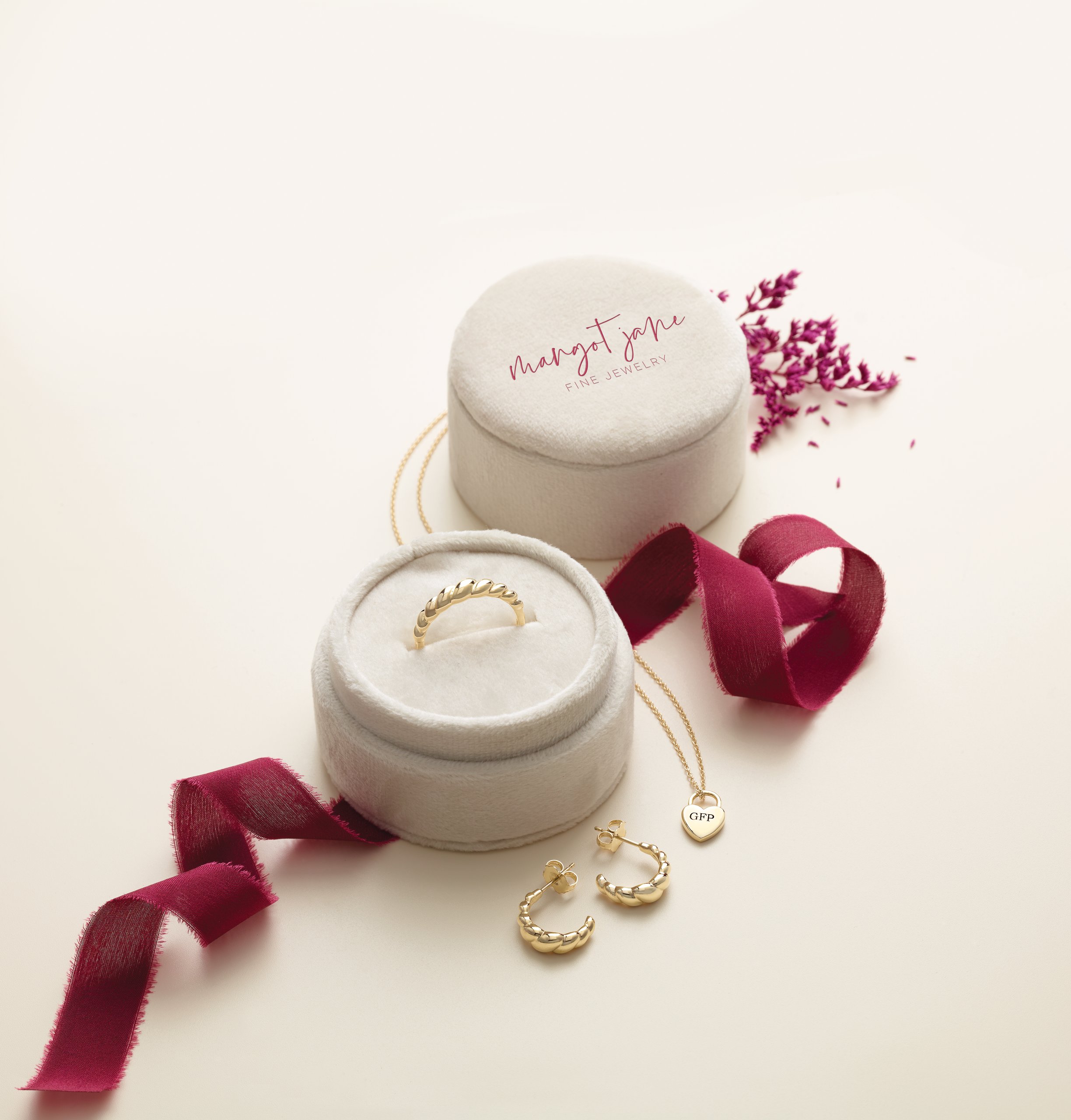 To offer a memorable experience to existing and potential customers this season, be open to finding multiple packaging options that truly express your brand aesthetic for a well-rounded display. For example, a collection might cover brand needs for your business, but you would like to explore multiple textures or colors. The goal is to create connections in every detail that show customers your business can be their top choice, even after the holidays.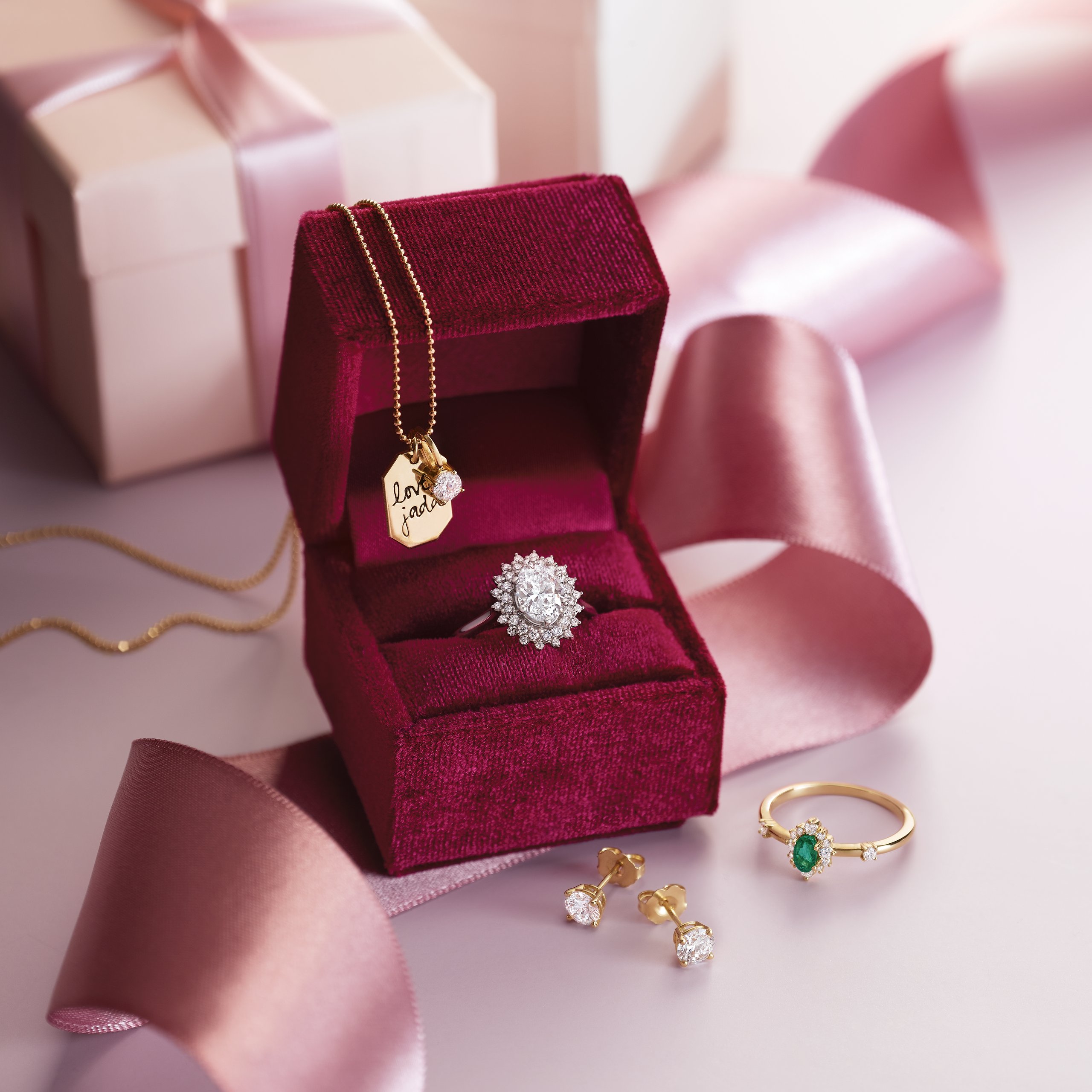 Whether it's the ring that says "forever," a stunning pair of stud earrings, or a glimmering pendant, jewelry packaging can be so much more. Using boxes in your display is a great way to inspire the perfect unboxing moment.
Here are a few ways to incorporate jewelry boxes into your display as a unique detail:
Use open boxes to highlight statement pieces. The piece should be the focus, but a jewelry box can mimic the final gift.


Add pops of holiday color like rich, warm shades to catch the eye.


Curate a well-rounded selection of boxes that show potential customers their options when visiting or showcase different bridal styles in multiple box shapes to create a story.
At Stuller, you can be confident in having just the right amount of packaging that best fits your needs, no minimum quantity necessary. Stock up for the holidays with larger quantities to keep on hand, or order as needed on Stuller.com.
With gifting, it can be the smallest details that make the biggest impact. Create a space for your customer to feel confident in finding the perfect gift for a loved one, or themselves with elements that make a lasting impression. Gift bags, wrapping paper, and tissue paper are easy additions to keep your business top-of-mind this season, with minimal investment.
Gift bags are an easy way to add height and heft to your case to create visual interest. Try staging gift bags as you would present them to a customer in the final sale.
Make a statement with gorgeous, holiday-inspired wrapping paper in prints that keep their gaze and make unique risers for your product.
Considering additional gift-wrapping services this season is a great way to ensure customers are covered until the very last step. Promote services by adding in your offering of gift bags, wrapping paper, and tissue paper to show complementary combinations.
Remember, setting the tone can be both subliminal and effective — adding a gift-wrapped box or delicately tucked tissue paper makes gifting opportunities easier to spot! Take advantage of open space in your case to find creative placements that feel natural.
Exploring the opportunities for packaging and displays in your case is a great way to incorporate visual appeal during the holiday season, creating a lasting impression with every sale. With holiday shades and cozy textures, ensure customers that your space is the place to be for their gifting needs.
To find everything you need for the selling season, we've enhanced our shopping experience on Stuller.com to give you flexibility when browsing our assortment of jewelry packaging. From boxes to bags, shop Stuller jewelry packaging collections by item, color, and material here.

For gift-wrapping essentials, you can shop seasonal patterns and colors here.
Preparing for the peak of holiday selling can feel intimidating, but with the right tools to succeed, you can have confidence in your business to offer more than just jewelry, but a memory. As always, Stuller is here to help when it comes to keeping you stocked and ready for any occasion.
To access more tips and expert picks for the season, check out our comprehensive gift guide for Holiday 2022 shopping, or reference previous blogs:
A Jeweler's Holiday Selling Season Toolbox
Top 6 Selling Solution Investments Ahead of the Holiday Season
Product Manager, Packaging and Displays
I've been in the wedding industry since I was 17 years old • If I'm choosing dinner, it will always be Mexican food • On average, I have at least two boxes from Amazon awaiting my return home • I'm absolutely OBSESSED with my favorite human, my white-haired Labrador Retriever, Teal girl