From reimagined pieces to star-studded additions, we reflect on this year's award-winning designs with behind-the-scenes takes from our experts.
Following this year's JCK Jewelers' Choice Awards and the 7th annual INSTORE Design Awards, we are happy to announce the winning designs that were created by Stuller designers. Recognizing excellence in jewelry design, Stuller is honored to have been considered and acknowledged as a winning finalist in this year's awards season.
We are incredibly thankful for our teams that make this achievement possible, and so, we would like to celebrate them! In today's blog, we speak with one of our expert designers behind a few of our winning designs, and also hear from a few of our team members on other showstopping styles that took center stage.
Meet the Designer: Megan Tran
"Seeing my designs considered for INSTORE and JCK is really rewarding. It's exciting to know that we're producing work that resonates with our customers."
We were incredibly lucky to interview Megan for more insight into her creative process for three of our award-winning designs. Her balance of researching trend projections and using a blend of hand and computer design are key aspects for visualizing a piece. Read on for insider takes and original artwork from the designer herself as we celebrate her incredible talent.
For Best Necklace under $5,000, Stuller tied for 2nd place in the INSTORE Design Awards with our 14K Yellow Petite Multi-Gemstone Celestial Coin Necklace (88044:103:P).
Let's hear from our designer on the inspiration and creation strategy for this piece:
This style is so unique, but fun! What inspired the direction of this piece?
I was inspired by the celestial trend that's been going strong since before 2015. Lately, we've seen the trend morphing into a more spiritual interpretation of "celestial," so, I wanted to create something that was a bit like a talisman. I wanted the wearer to feel like it was a good luck charm or protectant.
Celestial designs have become quite popular, and we certainly love that direction here at Stuller. How would you describe standout elements, and how many versions of this piece were there before production?
I submitted several designs initially, and this one was chosen right away. This piece is a blend of symbols: a rainbow, rays, a crescent moon, and a star. I really wanted to create a talisman effect that could hold several different meanings depending on the intentions of the wearer.
The elements of this design offer a lot of potential for making a statement or being a small reminder of intentions, as you mentioned. What type of customer do you think this piece would channel?
I imagine this piece would be something self-purchased! Perhaps, to remember a special event.
In the JCK Jewelers' Choice Awards, Stuller placed 3rd in Gold Jewelry $2,500 and under with our 14K Yellow Aphrodite Coin Cable Bolo Bracelet (BRC879:102:P).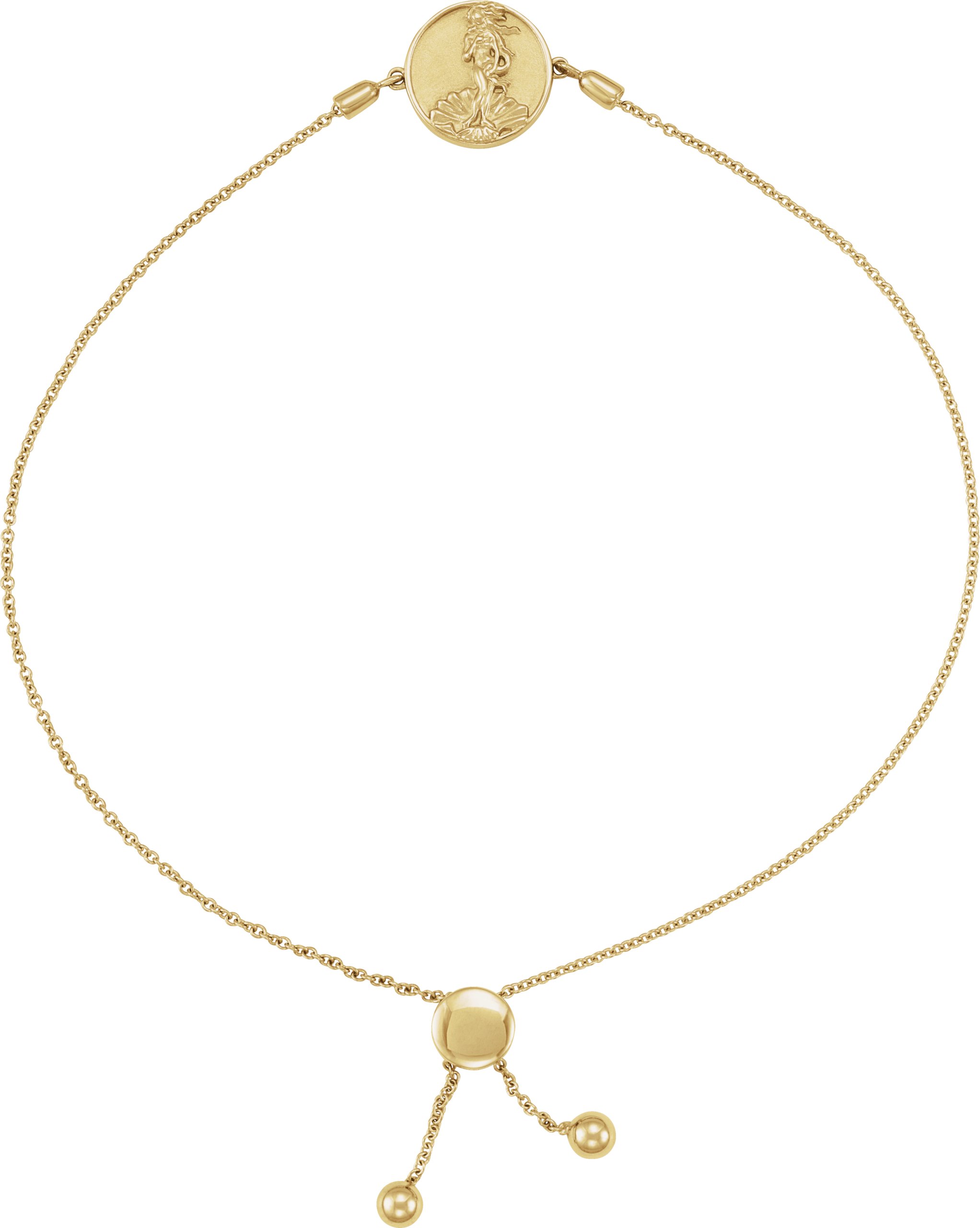 For this goddess-inspired design, we asked Megan to tell us a bit about her process:
Following our goddess-inspired series, how did you approach creating an Aphrodite piece?
I wanted Aphrodite to be immediately recognizable, so I looked to existing statues and paintings that people may be familiar with. After looking at historical representations of Aphrodite, I also looked up how other jewelers reference her in their current work, making sure to consider existing designs, too.
This design is very elegant and quite detailed. Were there many versions of this concept?
Yes! I produced three concepts for our merchants to choose from. I first drew out the designs on a 2:1 scale and then painted them with gouache.
Did You Know?

It is believed in mythology that Aphrodite received numerous pieces of fine jewelry gifted by her husband, Hephaestus.
For men's jewelry, a fresh take on a classic can add the perfect touch. Venturing into pieces that celebrate a non-traditional approach while remaining refined can seem tough, but elements like patterns or textures give the right amount of charm.
In the category of Men's Jewelry $2,500 and under, Stuller placed 2nd in the JCK Jewelers' Choice Awards with our 14K Yellow Nugget Pattern Band with Satin Finish (52381:151:P).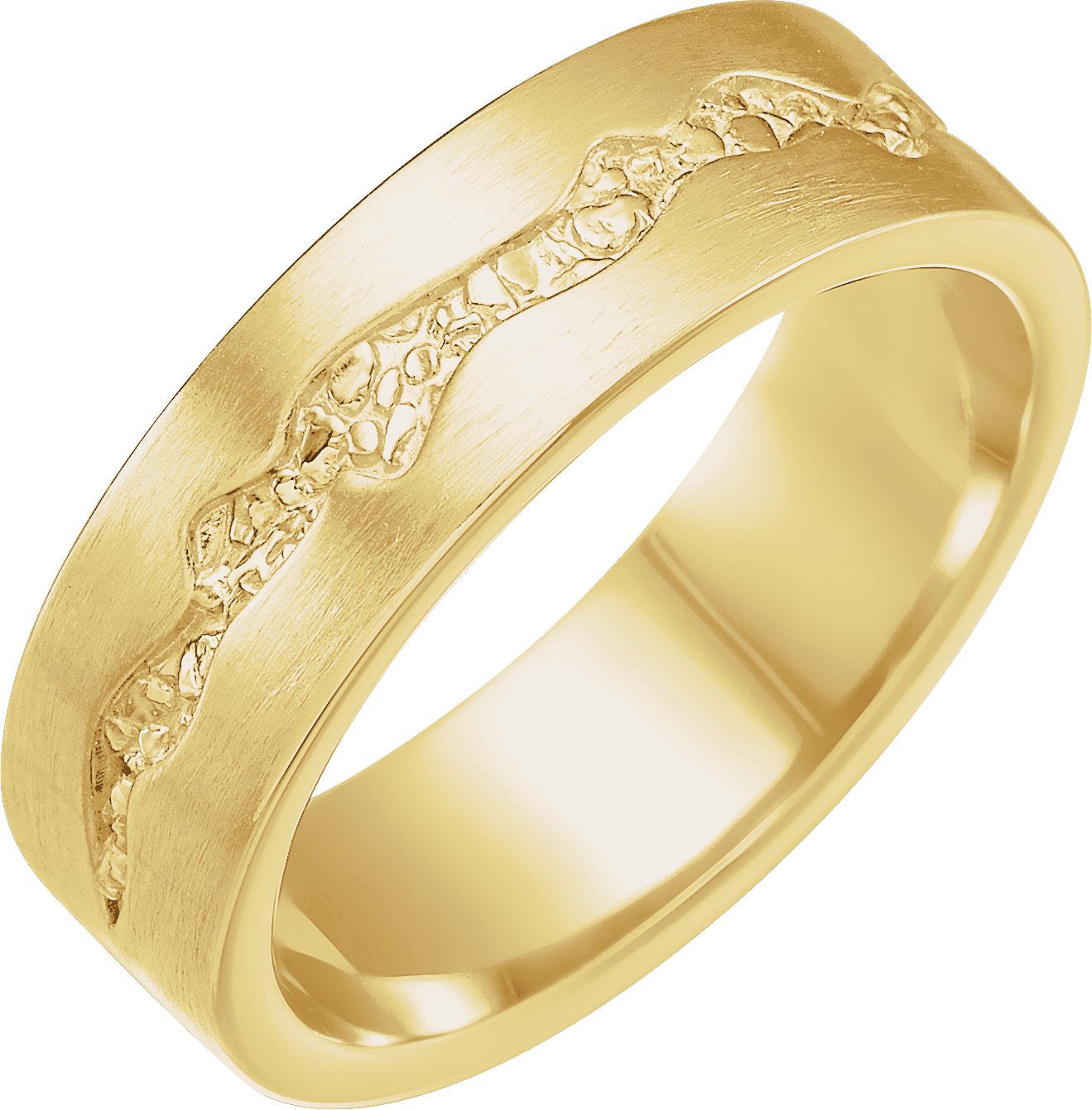 To learn more about this modern take, Megan gave us a look into each step of this style:
This is a really interesting take on the Mens Classic Band. What inspired this patterned piece?
This piece was inspired by the resurgence of the 1970's "nugget" trend in jewelry. I wanted this ring to resemble a fissure in the ground that "exposed" the gold nugget pattern.
I see a lot of cool textures! How would you describe this piece or elements that really stand out?
This was one project where I found working on a computer to be more beneficial. I was able to manipulate real images of gravel to create an interesting texture that peeks through the fissure. There were six versions of this design, initially.
It feels very versatile, as well, despite being classified as Mens. Was this piece conceptualized to be open to a range of customers?
Yes! We're beginning to explore designs that are more unisex. The soft curve of the fissure feels more feminine, while the rough, stone texture is more masculine. It's sold as a wedding band, but I feel like it could also work as a layered piece!
Additional Award-Winning Styles
Let's hear from our team of fine jewelry experts on a few on-trend styles that received recognition, from lab-grown diamond jewelry to unique, celestial, and personalized pieces.
Previously seen in the February 2022 issues of both Harper's BAZAAR and ELLE Magazine, we saw the new, Modern Brilliance® x 302® Fine Jewelry Collection take center stage with lab-grown diamond earrings set to make a statement.
This year, our Lab-Grown Diamond Front-Back Earrings (688818:LG600:P) were awarded 1st place in the INSTORE Design Awards category for Best Laboratory-Created Diamond and/or Gemstone Jewelry, as well as Retailer's Choice. For the JCK Jewelers' Choice Awards, this design was also awarded 3rd place in the Best Lab-Grown Diamond and/or Gemstone Jewelry category.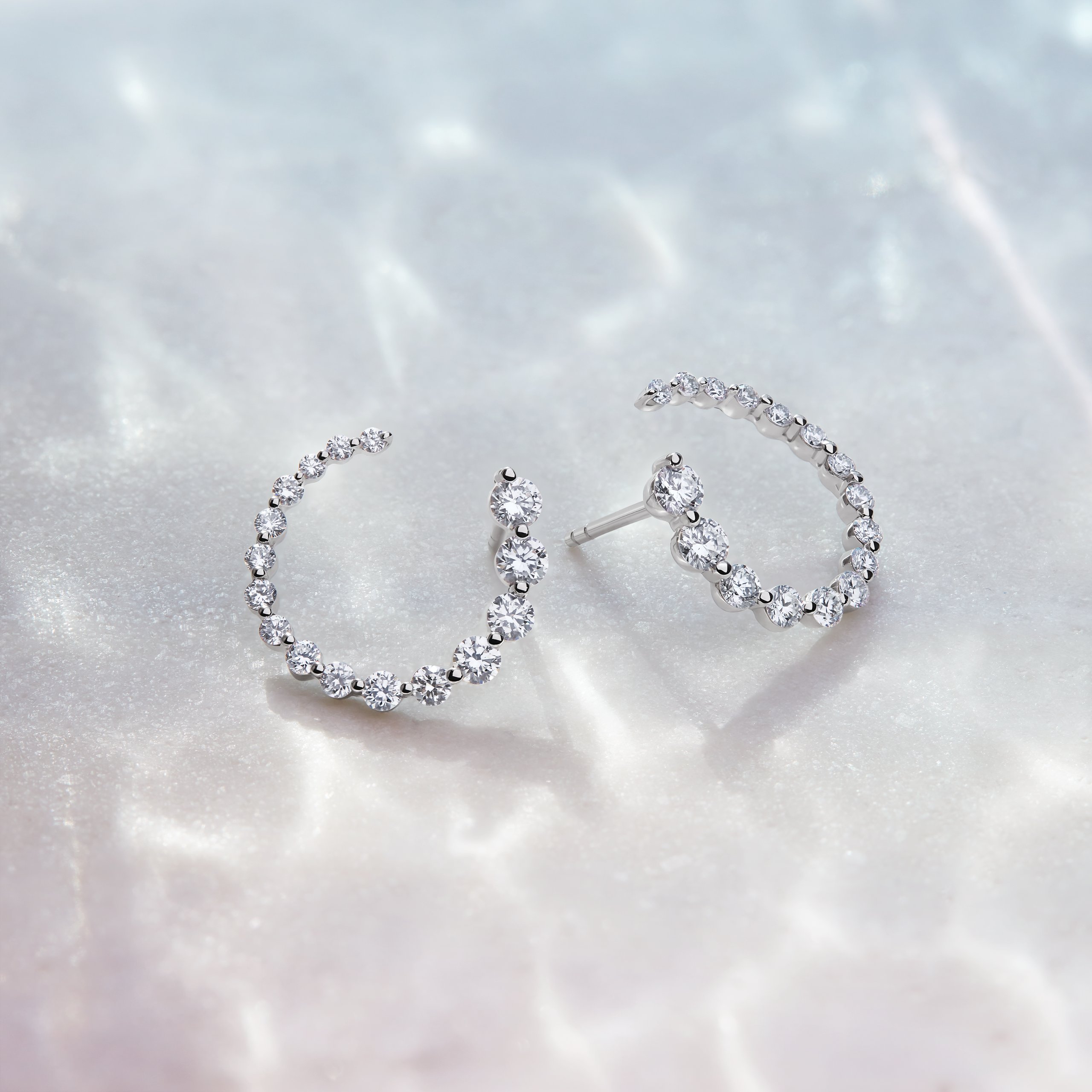 "These lab-grown diamond front-back earrings provide dramatic graduation from the front of your earlobe leading to the back. Set with lab-grown diamonds, you get the big diamond look for a quarter of the price. We always try to add a statement piece in every Modern Brilliance® (Stuller's Lab-Grown Diamond Jewelry Collection) launch, and this piece really stands out!"
With continuously updated, award-winning designs, 302® Fine Jewelry is Stuller's curated line of fine jewelry pieces that encourage those to wear and share their stories. In collaboration, the Modern Brilliance® x 302® Fine Jewelry Collection seeks to showcase popular styles set exclusively with lab-grown diamonds for effortless style at a more affordable price point.
For the 7th annual INSTORE Design Awards, Stuller won 1st place with our Zodiac Constellation Ring (688892:112:P) in the category of Best Ring under $5,000.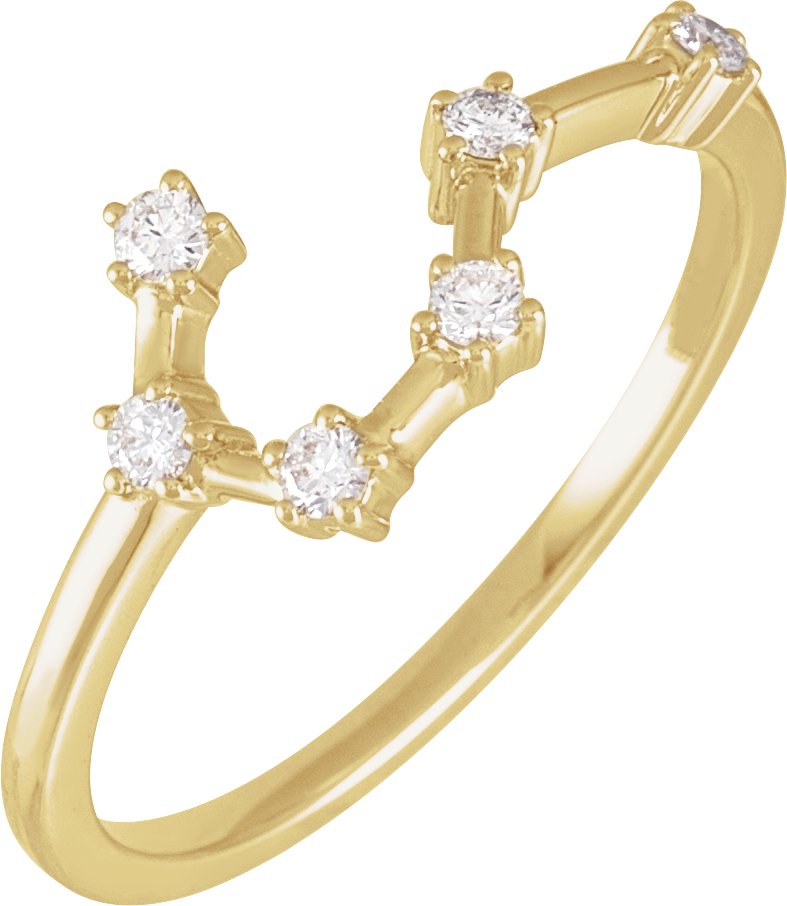 "Zodiac and celestial designs are everywhere, so we knew we wanted to offer this trend — this ring happens to cover both. We leveraged our existing zodiac constellation necklace and imagined it in ring form. This natural diamond zodiac constellation ring is the perfect, on-trend personalization piece. It goes perfectly with other stackable rings or works as a stand-alone piece to make your own personal statement."
Personalized and Treasured
Jewelry can create limitless opportunities for self-expression — letters, symbols, and engravable pieces all allow customers to find their own unique way of being true to themselves while stylishly sharing it with the world.
Placing 2nd in the JCK Jewelers' Choice Awards category for Personalized Jewelry (Beads, Charms, Messaging, Inspirational) in all price points, our 14K Yellow Engravable Four-Sided Vertical Bar Necklace (87619:123:P) offers an exceptional canvas for a one-of-a-kind piece.

"This four-sided engravable bar necklace is the ultimate personalization piece! It allows the wearer to showcase four of their favorite things- whether it's names of people, dates, or inspirational words. My favorite way to wear this piece is to pair it with other chains and necklaces, creating the perfect personalized neck stack!"
For more than 50 years, Stuller has dedicated itself to providing high-quality, industry-leading designs to jewelers around the world. We are honored to receive these awards and celebrate our incredibly talented designers and experts for their hard work. Most importantly, we thank you for being a part of our story.
Get inspired at Stuller.com/AwardWinning to see our complete selection of winning designs and styles. 
Claire is a graduate of the University of Louisiana at Lafayette with a degree in Journalism. Her advanced writing background combined with her love of staying on top of the latest trends helps her find the perfect content to bring to the jewelry industry.