Toasting Marsala
Celebrating Pantone's Color of the Year
Marsala, Pantone's Color of the Year, is a stirring and flavorful shade. Much like the fortified wine that gives Marsala its name, this grounding, full-bodied red-brown hue emanates a sophisticated, natural earthiness.
Equally tempting to women and men, Marsala is flattering against most skin tones and is a great go-to color compatible with a broad range of other hues. Hearty yet stylish, this warm tasteful tone translates easily to fashion, accessories, cosmetics, interior design, and, yes, jewelry.
Speaking the Pantone language can help you communicate color in a way that resonates with your customers, reinforcing the popular seasonal hues consumers are already seeing in other categories. Fortunately for you, the gem world provides many ways of realizing the spectrum of shades Pantone promotes, especially mineral families that offer a range of color options like diamond, corundum, tourmaline, garnet, topaz, spinel, beryl, quartz, and zircon.
Myriad gemstones of the Marsala variety that can be found in Stuller's portfolio, including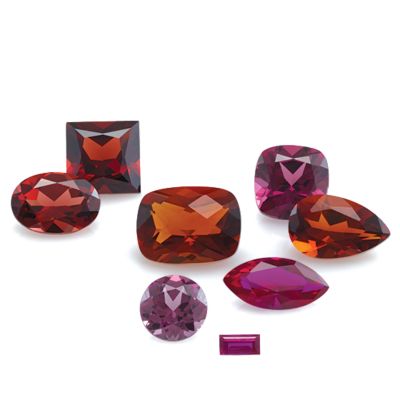 Genuine Mozambique and Rhodolite Garnets, Imitation Garnet, Genuine Swarovski Gems™ Blazing Red Topaz, Genuine Rubies, Chatham® Created Rubies, Imitation Ruby, and Genuine Madeira Citrine. It's not so much about matching the Pantone colors exactly, as it is making connections that your customers can relate to, and everyone can relate to some shade of red.
 Able to stand on its own, Marsala also makes a dramatic partner to neutrals like warmer taupes and grays, as well as hues of amber, umber and golden yellows, greens in both turquoise and teal, and blues in the more vibrant range. While it commands attention, Marsala does not overpower.

In jewelry design, as in fashion creative combinations get noticed. There's a litany of color pairings to explore in gemstones that are soft, light, neutral, earth tone, vibrant,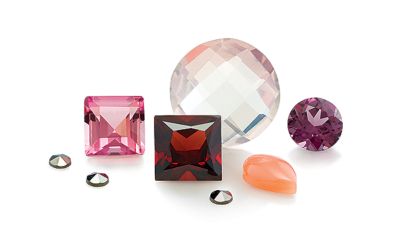 and bright with Marsala gems as either the main attraction or the accent stones. Think rose and lemon quartz, morganite, blue sapphire, iolite, Tahitian pearl, pink tourmaline and spinel, coral, carnelian, lilac amethyst, citrine, Honey Passion topaz, turquoise, smoky quartz, and marcasite. You can help your customers choose the color combination that works best for them. Then, complete the look with one of Stuller's customizable 3C mountings.
Set in a matte finish, Marsala-inspired gems could convey a more organic nature, while a high polish look might reflect a message of glamour and luxury. Moreover, metal color impacts how gemstones look in their setting, with yellow and rose gold adding warmth, while white metals express a sleek, modern feel.
One of the biggest benefits to pandering to Pantone is that it gives you the opportunity to jump into the trends conversation and turn the spotlight on select gemstones and jewelry designs that you can provide. Make connections with customers on your website and social media platforms. Hash tags are important to include in social media posts (i.e. #MarsalaGems), and promote the ones you are using to your customers so they can get in on the conversation.
Classic in nature and playful in spirit, I expect Marsala to remain a prominent color through 2016 with different spin offs in the color range including burgundy, raspberry, orchid, and dusty rose that should have you on full red alert!